INTERVIEW: Joyous Wolf talks debut EP, brotherhood in music
Over the past decade, novelty in rock has stagnated. While yesteryear's superstars continue to sell out stadium tours, today's most promising acts compete for scarce exposure. Fans gravitate toward nostalgia, disregarding the very acts that our favorite bands select to accompany them on tour. Consequently, we allow tomorrow's potential headliners to go unnoticed, underappreciated and undiscovered. 
Los Angeles hard rockers Joyous Wolf are one of the hottest up-and-coming acts in rock n' roll. Having already performed in support for legends such as Slash featuring Myles Kennedy and the Conspirators, Buckcherry and Deep Purple, Joyous Wolf have developed a reputation for using their fast-paced, unpredictable stage presence to organically win over reluctant crowds. 
But despite a successful 2019 which featured over 120 gigs, Joyous Wolf still isn't a household name. Yet.
Last April, Joyous Wolf released their seven-track, debut EP Place in Time, providing listeners a glimpse into the quartet's creative vision and thematic direction. Condensing misadventure into musical form, Place in Time's youth-centric lyricism is supported by dystopian riffs and cascading inventiveness. According to vocalist Nick Reese, the EP came together through a desire to capture the moment.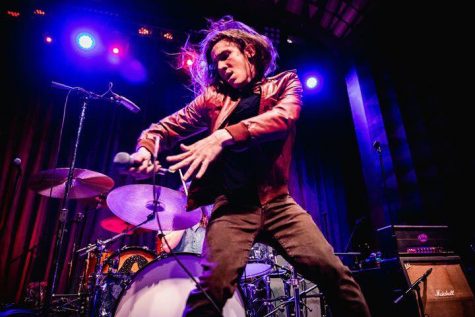 "That record is very much what the name is, it was a moment in time and I feel like that was a very universal feeling," said Reese. "It was making our first effort. There was this desire to prove ourselves in an aspect."
Exploring the challenges of interpersonal communication and conflict, Reese's pointed lyricism illustrates this generation's struggle to embrace the moments that underscore the impermanence of youth. 
"When I write lyrics, I very much try to focus on what I know best and I suppose that it's the emotional aspect of things and mental aspects of things," offered Reese. "I don't think I can say anything about something I don't understand because I just wouldn't be able to really invest in it. I try to keep it vague enough so people can take it and do whatever they want with it, but also detailed enough so that if you look underneath the lines, people will know exactly what I'm talking about."
Despite only clocking in at just over 27 minutes, A Place In Time navigates a wide range of topics. "Quiet Heart" details the torments of feeling unheard while "Had Enough" probes the effects of insecurity and confrontation stemming from subservience. Reese cites the EP's namesake song as the best representation of the Joyous Wolf brand. 
"I feel like ["A Place in Time"] is a great introduction to us as a band," said Reese. "It's just a no-nonsense, hard rock song about the new generation. 'Live and let be,' I like the message. I feel like it's a great little start to the feel of who we are as a band."
Reese says the ingenuity behind their debut EP stemmed from unexpected sources. Gathering inspiration from George Michael, Michael Jackson and Brazilian singer-songwriter, Lenine, Reese cites his appreciation for the vastness of rock and its various subgenres.
But while Reese borrows inspiration from the past, he also contends that in order to keep rock alive and healthy, fans must stop burdening new artists with comparisons. 
"Everyone is going to compare one generation to the next," explained Reese. "Everyone compares every basketball player to [NBA Hall of Famer] Michael Jordan, who played almost 30 years ago now. People have their favorites, people are set in their ways and they like their specific things.
"What I mean is that no matter what, the things that you hold dear to you are going to start to fade and if you want this genre to continue, you need to pull your head out of your ass and realize that we love those bands too. And the reason that we're a band and we're playing is because of the bands that you love. And we are a product of that love, of that p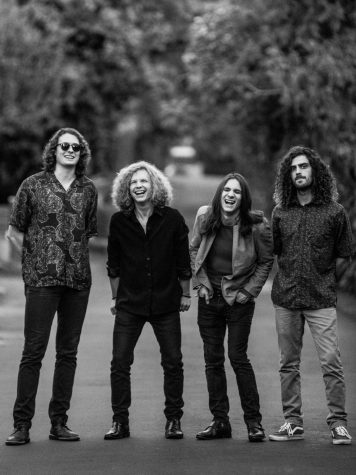 assion for rock music."
With over 120 performances under their belt, it's no coincidence that rock n' roll legends pick a dynamic act like Joyous Wolf to support them on their continental tours. Reese's booming, howling vocals epitomize the essence of rock n' roll. The manner in which Allard peers skyward as he executes his contemplative solos and riffs is musical bliss. Bassist Greg Bracchio, towering over his bandmates, can fret with the best bassists in the industry while drummer Robert Sodaro's personality shines bright from the back of the set. 
"I'm lucky because I have the best players in the world," said Reese. "I'm not one for patting myself on the back but they are the best of their generation by far. I haven't seen anyone better than them yet."
On stage, Reese complements his commanding vocals with an electric stage presence. His dance moves are authentically unorthodox, reminiscent of a young Elvis Presley. He's acrobatic, performing front flips and cartwheels with reckless abandon as his bandmates take center stage. Collectively, Joyous Wolf offers a charming, fun celebration of rock n' roll. 
"I've always been keen on moving around and music just provided a feeling," explained Reese. "I just go along with the feeling. That's where all of my show comes from, it's how the music makes me feel. You're not going to expect what we're going to do. We're an opening group and instead of being there to fill space, we put on a show and I think that's the difference."
As fans of rock n' roll witness Joyous Wolf's maturation from an opening act to eventual headliners, it's easy to identify what drives their passion. Sure, each member of Joyous Wolf is a
formidable and dynamic musician on his own, but they aren't just a collection of individuals piggybacking off of one another to achieve a common goal. Instead, Reese, Allard, Bracchio and Sodaro embody the skill, brotherhood and camaraderie synonymous with rock's golden age. 
"They're my best friends and I love them. They're my brothers and I love them and I'm pretty sure I've loved them from the moment I met them…We're all in this together."