Congrats, grads!
We have come to the finish line, graduates. After the stress of deadlines, assignments, staying up late and toiling in the library for endless hours, the most anticipated day of your college career has arrived. 
If you attended the Commencement Fair in early November, you felt the build-up and excitement of gathering your graduation materials. The Alumni Hall had professional photographers take pre-graduation photos with your cap and gown. There was music playing in the background, tables set up to pick up graduation tickets, alumni gear, career assistance and even an Instagram-worthy station to take fun pictures.
In a recent NEIU Targeted Announcement email, we were informed of an event that graduating seniors can attend. In light of the upcoming graduation, there are different ways in which you can prepare for the big day. The following are some tips you can use to make the countdown to graduation day more memorable and thrilling. 
Attend the Senior Send-off Party 
Student Leadership Development has created this party and invites seniors to attend the party at Joy District from 7-10:30 p.m. on December 12th, 2019. NEIU December graduates can bring one guest and add their name to a waitlist if they want another ticket. There will be food and soft drinks provided as well. What a fun way to do a pre-celebration with your selected guest! (If you're into that)
Joy District is located at 112 W. Hubbard St., Chicago, Il. 60654
Cap Decorating
This is a fun trend that has happened in the last few years and it is a creative way to express yourself. NEIU will have a cap decorating event on campus Wednesday December 4th, 2019 from 2-4 p.m. at the Pedroso Center (B-159) and supplies will be available. If you cannot make it, no worries! You can also do this in the comfort of your own home and take as much time as you'd like. (I personally like going to the craft store Michael's and choosing unique embellishments) Essentially, choose something that is meaningful to you.
Pick out your outfit ahead of time/shop if you need to.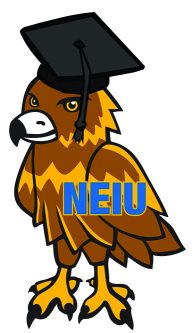 Although this notion might seem trivial, it is something important to consider for several reasons. When it comes to graduation day, you want to look your best so you can celebrate to occasion accordingly. As the saying goes "look good, feel good" you will feel this if you plan ahead of time. This consists of choosing the outfit you will be wearing at graduation, going early enough to buy something, choosing accessories, shoes, etc.  That way, when it is graduation day you don't have to be running around town and deciding what you are going to wear. It makes it less stressful and you will be ready to go.
Take a day (or two) to pamper yourself.
Everyone has different ways to do self-care, so choose the option you will enjoy. It is necessary to take a day or two before graduation to do things that are fun for you. After all the stress from classes, work, internships, etc. pamper yourself. Go to the spa, get a massage, watch a movie, take a bath, go out with a friend to eat, etc. and it will be a great reward after all your determination and hard work.
HAVE FUN!!
Whatever activity/activities you decide to do for your upcoming graduation, remember to always have fun and be safe. Gather your friends, significant other, cousins, whoever you are close to and plan on thrilling activities. Essentially, the activities/events will create everlasting memories. Choose something that suits you and that YOU like/love.