A classic tradition at our campus
For the last 22 years, the Ruth Page Civic Ballet has performed E.T.A Hoffman's "The Nutcracker" in NEIU's auditorium, where dancers of all ages and backgrounds bring a show to life that is nearly 127 years old.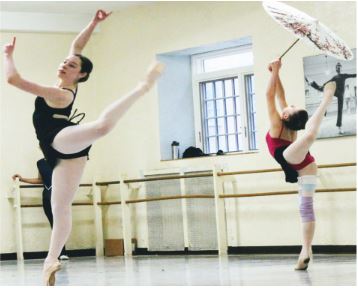 Director Victor Alexander began as a dancer in Havana. He's been dancing in the United States since 2002 and became the school director in 2012 for Ruth Page Center for the Arts. "There wasn't a big change made when they started doing (the show) again after we had this gap from 1997 to 2002, especially in the first act. The party scene, we started using actors. It's kind of like a narrative idea. We have the dialogue happening while the dancers are dancing," Alexander said.
The Ruth Page Civic Ballet has performed a version of "The Nutcracker" since 1965. The company took a hiatus from the show in 1997 when it was produced by the Arie Crown Theatre. The performance was revived in 2002 and revamped into what it is today. Alexander said, "We did have to make drastic changes because before we were produced in the Arie Crown. And being in the big theatre, now we're not. Now we're produced by Northeastern, Grayslake College and the theaters are not the same size." He continued, "The whole scenography was huge. Choreographically it's the same." Alexander's goal is to bring in professional dancers who are still active work as soloists alongside the students in those main roles. "We hire professionals to do all those soloist roles," Alexander said.
This mixed collaboration is what makes the Ruth Page performance unique. Students are pushed to the next level and professional dancers pass on skills and techniques to a new generation of dancers.
"This 'Nutcracker' has a different feeling," said Alexander. It's family friendly. It allows kids to be part of the dream. It allows kids to be part of the world and build that imagination. That's one thing I really love with this production."
Since Ruth Page is one of the oldest performances of "The Nutcracker" in Chicago, the audience tends to be mixed. Multigenerational audience members watch with those who are seeing the Nutcracker for the first time. The show keeps both entertained.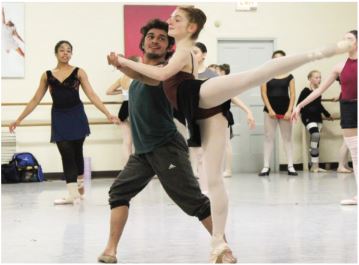 Lucy Taylor is American Beauty Rose in this year's performance. The 15 year old has been working with the company since she was six years old. "I practice six days a week during the regular year when we don't have the Nutcracker or something big," said Taylor. And I have about two classes a day, so about three hours. When 'Nutcracker' or the spring shows come, then we go seven days a week. We'll have normal classes during the week, then rehearsals after three days a week and also on Sundays. So seven days a week." She danced in nine performances of "The Nutcracker" with Ruth Page and started as a Bonbon child during Mother Ginger and the Bonbons in act two.
"I really like performing Rose. This will be my first year dancing her…I've watched so many dancers do Rose. My teacher, Ms. Dolores, she did it. I've watched videos of her performing it. So it's really cool to be doing it, when I've seen so many people I look up to who have done it for so long," said Taylor.
Natalie Morro (Clara) is in her third year of performing "The Nutcracker" with the company. The 13-year-old dancer started dancing four years ago. "Overall, this has been a really great experience," said Morro. "The show is really family friendly with lots of acting, pretty costumes and great dancers… You get to see a work of art right here in Chicago."
Todd Keich (Mouse King/Mother Ginger), an accomplished professional dancer, began working with Ruth Page three years ago as a soloist performing the part of the Mouse King. His body art illustrates a story almost as intricate as his performances. In this performance he appears adorned in a giant hoop skirt on four foot stilts, hiding many adoring Bonbon Children.
"My favorite (role) to perform is Mother Ginger," said Keich. "Just because it's fun, it's ridiculous. The character is…It's not a lot of difficult movement but you get to be really over the top and ridiculous." Keich continued, "(The Nutcracker) is classic. It is a holiday tradition. It is gorgeous to look at. It's a beautiful score. It's an amazing group of per-amazing holiday experience."
The Ruge Page Civic Ballet will be back at NEIU's main campus this holiday season to perform "The Nutcracker" on Dec. 7 and 8.