Green Conservation Group prepares to strike
Students from the Green Conservation Group alongside youth from Sunrise Movement Chicago organized an Art Build on NEIU's campus just before Thanksgiving break. During this community event, students and a few local members of Extinction Rebellion and Indivisible Chicago, created large banners which will be used in upcoming actions by Green Conservation Group, Sunrise and Illinois Youth Climate Strike representatives.
"The purpose of these large banners is to call awareness to the issue of climate change and present a striking visual that engages passerby to recognize the need to get involved," said Miranda Green, president of the Green Conservation Group at NEIU.
She continued, "We wanted to bring this opportunity to campus so that students can get involved even if they don't know much about the problems we face or don't have the capacity to demonstrate themselves. We hope to host more events like this in tandem with visiting organizations to bring more high-impact climate action opportunities to NEIU."
The banners created this time around are blue and gold, sporting phrases like "People and Planet over Profit" and "Respect Indigenous Rights". Another fabric banner reads "Strike With Us December 6th" referencing the National Climate Strike which will occur downtown, starting near Millennium Park from 11 a.m. to 1 p.m. on Friday, Dec. 6.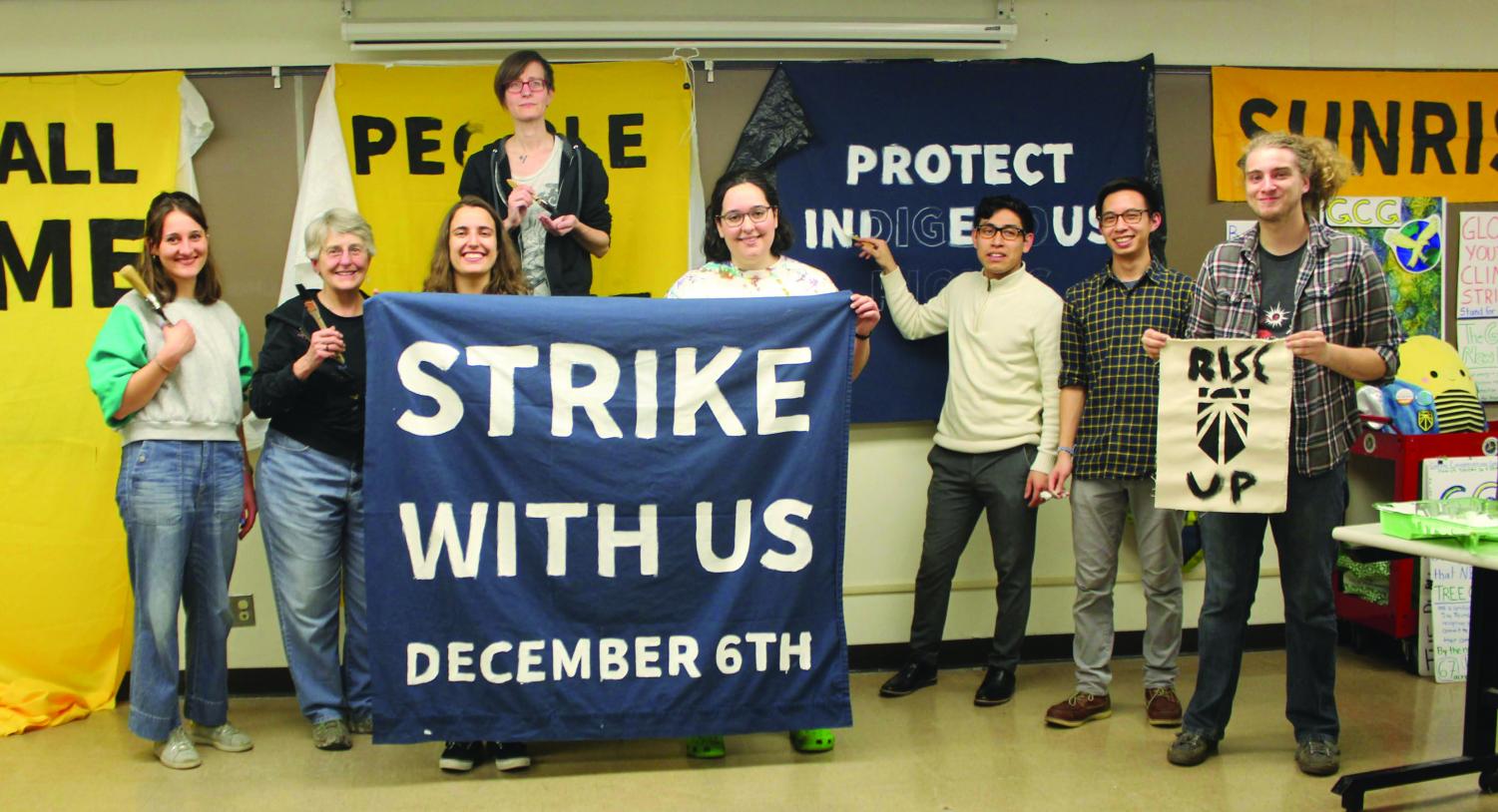 Students from Green Conservation Group plan on attending the Strike but a few will be in the midst of final exams on campus. The latter group will instead be supporting the strike through social media, sharing photos and related posts.
The National Climate Strikes come a week after the Global Climate Strikes happening worldwide on Nov. 29 aka Black Friday, which is the United States' largest retail holiday. Though there are no posted events, there are whispers of solidarity actions across the Chicagoland area to support Global Climate Strike visibility. The strikes are intended to show the enormous support for climate action from the public and pressure politicians or other entities to take responsibility and act on behalf of the planet.
Green further explained, "Our goal is to inspire people to think critically and act, as well as to let people know–there is still time to avoid the worst effects of climate change but only if we choose to act now to change the way we live. It is up to us to decide our future and we hope you will join us."