The Power Closet as an empowerment resource
On Nov. 16, NEIU hosted its annual Etiquette Gala. The night included etiquette lessons from Rashada Whitehead. She is an adjunct professor at Roosevelt University and President and Chief Transformation Officer at KGBERRY. Whitehead interacted with the audience to create a comfortable networking experience. She encouraged the audience to be themselves , show your personality and, most importantly, be curious. Whitehead also prompted attendees to interact with others and branch out while the networking.
While Whitehead played a prominent role in creating the etiquette experience, NEIU students had a major role as well. The College of Business and Management partnered up with the NEIU Power Closet. The Power Closet is an on-campus organization that assists NEIU students in assembling full outfits for interviews and other business occasions. In fact, students are allowed to keep any of the items they choose. Students can have individual pieces or get an entire outfit including tops/blouses, slacks/skirts, jackets and accessories (shoes, tie, pantyhose, etc.).
Drew Andreada, coordinator of the Power Closet said, "We are excited for tonight we want to get the word out for the Power Closet because we are able to collaborate with the College of Business and Management. We are also on Facebook, where we post events, specifically about career fairs around Chicago." 
There were 12 student models who participated in the fashion show. It is important that the models were students instead of professional models because NEIU is known for its diversity and inclusivity. Having students models was more realistic and relatable because communicates the idea that if other students can upgrade their wardrobe, so can you.
Arian White, a student who modeled in the fashion show, revealed an intriguing viewpoint from the Power Closet. White said, "The Power Closet is very empowering for young adults because they get to evolve before going to the outside world" and this viewpoint is definitely worth noting.
The opportunity for students to prepare themselves at the university level is valuable. Events and programs like these help prepare students for future opportunities, such as interviews and internships  For me, this was the first time that I had heard a university offer the Power Closet service. When someone goes to an interview, it is important to dress professionally and appropriately because the first thing the hiring manager will see is your outfit and you definitely want to make a great impression.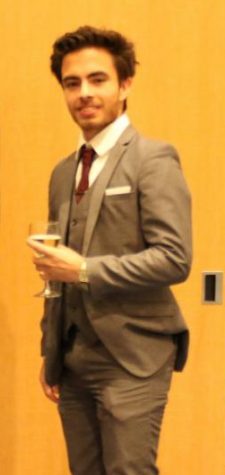 As the cliche goes, "look good, feel good." In other words, if you look amazing, you'll feel confident about yourself and perhaps you'll be able to express yourself more freely. Yadira Alonso, another student  models, advised, "when in doubt, believe in yourself."Graduating and finding your dream job can be nerve wracking, but take courage to believe in yourself and invest that doubt into something greater. 
Growing up and having more responsibility can be nerve wracking, however, there are resources in place to help students transition into the professional setting. The fashion show was an eye-opening experience for many students and guests.  It was an accessible event and provided us with visuals for the future. 
Both the Etiquette Gala and Power Closet offer students the opportunity to expand their comfort zone and digest new information. Female students wore variations of business formal and business casual attire. There was something for all body types and styles such as black dresses, black skirts with blazers and a trendy vest and pants.  Gentlemen wore variations of suits, favoring black and navy attire and using ties and bow ties as an accessories. 
It was evident that there is more than one way to dress in professional settings, but you can always add your own creative flare in how you dress. Additionally, accessories can spice up your outfit and bring out your personality as well. In the fashion world, there are various ways in which expressing yourself and the most overt technique is through clothes.
When it comes to dressing in professional settings, these are examples of dress codes: white tie, black tie, cocktail attire, business formal, business casual and dressy casual. To get a visual of these dress codes, check out Stylecaster.com/dresscode for a clear representation and ways you can use your style. 
For students yet to check out NEIU's Power Closet, I recommend doing so. Visiting the Power Closet is a great experience that will stay with you. In order to use the Power Closet, you must provide proof of a job interview (a copy of an email confirmation, application, letter of interview appointment, etc.). According the Power Closet website, "it is to help students look their best, so they can feel their best and confidently enter the workforce dressed for success" and I think that is an empowering goal from a  university.