Students helping students succeed
Most NEIU students are familiar with the Advising and Career Development Center, but not very many know about NEIU's Power Closet. The Power Closet is a 'dress for success' program that started in 2018 which provides students with professional attire for upcoming interviews or internships. NEIU students can visit the Power Closet for apparel and accessories to help them look and feel both confident and professional for an upcoming interview.  This service is provided free of charge, though sizing can sometimes be limited.
 Whether students simply need a tie to complete their look or an entire outfit, the Power Closet can book an appointment and check out what it has available. A common misconception is that students have to return the items, though that is actually not the case. Students can keep their Power Closet outfit. Additionally, if a student is hired and needs to add to their wardrobe, they may schedule another appointment for an additional professional outfit. The Power Closet office is located in the Main Campus in room E-036, right under the Beck's Bookstore and just past the Health Center.
The NEIU Independent recently had an opportunity to sit down with Drewzella "Drew" Andrade, who is in charge of the program. She laid out the simple process of setting up an appointment and what to expect on the website. Students simply need to click on the appointment calendar to choose an available date and time. On the day of the appointment, students must bring their NEIU student ID and proof of a job interview.  
Every appointment is 30 minutes long, during which students may try on different outfits and shoes. Power Closet appointments are available on Tuesdays between 10:00 a.m. and 1:00 p.m. and Wednesdays between 2:00 p.m. and 5:00 p.m.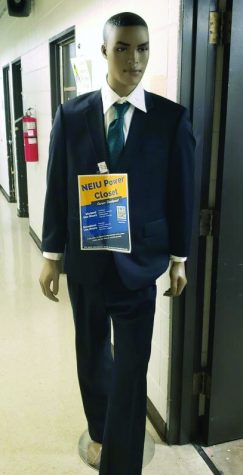 Where does the Power Closet get its clothes? According to Andrade, the outfits and accessories are donated by students and faculty. It is a valuable service for NEIU students that rely on the kindness of other students. For those interested in donating, the Power Closet is looking for new or gently used clothing and accessories in neutral, light and solid colors or small patterns. Accessories can include handbags, briefcases, shoes, opaque or sheer hosiery and fashion scarves. 
The Power Closet recently collaborated with the College of Business and Management (COBM) by offering their services to NEIU students who wanted to attend the upcoming 27th Annual Etiquette Gala on Nov. 16 at Alumni Hall. 
"It's great that COBM's Student Advisory Council reached out to me because the Etiquette Gala is already an annual event so a collaboration with them is a great start on spreading the word about our service," said Andrade. "I'm definitely excited about putting together the professional attire fashion show and hopefully it will encourage people to donate to the closet."
The collaboration offered an incentive for students to donate to the Power Closet, which gave students $5 off their Etiquette Gala ticket so that their tickets only cost $10 for a three-course meal, wine service, etiquette lessons, professional photo headshots and a business attire fashion show. President of COBM-SAC, Frannie Mendoza, sought to switch things up this year for the gala by making sure that student attendees get the most out of their money while also doing something good for each other. 
"The NEIU student body consists of hardworking and compassionate people so I think it would be easy for students to look at it as outgrowing a piece of clothing and passing it down to your siblings or cousins, with the hope that you are setting them up for success," said Mendoza, who is also the editor-in-chief for the Independent.
Alex Gonzalez, a spokesperson from the COBM Dean's Office also added, "The mission of the Power Closet falls in line with the efforts of the College of Business and Management to better prepare our NEIU students for promising careers. It is only natural for COBM to partner with the Power Closet for our first ever professional clothing drive and fashion show at the 27th Annual Etiquette Gala." 
Students in need are encouraged to take advantage of this great free resource, and everyone has the opportunity to help fellow NEIU students by donating new or gently used work clothes. The Power Closet is also looking for student volunteers throughout the school year.
For a full list of the donation requirements, please visit Power Closet's website https://www.neiu.edu/university-life/power-closet/donations. Donations can be dropped off at the E-036 office every Tuesdays between 2:00 p.m. to 5:00 p.m. and Wednesdays between 10:00 a.m. and 1:00 p.m. Interested parties can also email Drew from the Power Closet at [email protected] to schedule a drop-off time.