The Independent's NFL quarterback rankings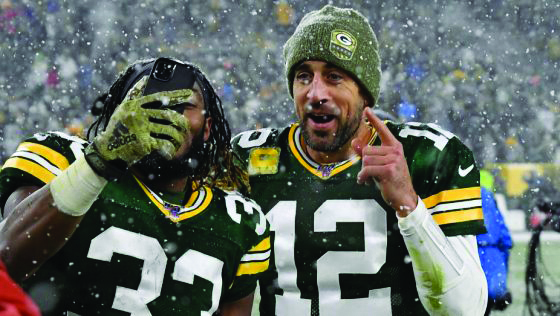 The first half of the 2019 NFL season is in the books, with a number of quarterbacks distinguishing themselves from their counterparts. Some quarterbacks have individually excelled while elevating their team's playoff chances. Others have floundered, effectively sabotaged their team's chances of salvaging the 2019 season. Let's rank the top three best and worst quarterbacks.
NFL Midseason Top 3 Best Quarterbacks
1.Aaron Rodgers, Green Bay Packers
After a poor 2018 season that saw the Packers labor to a 6-9-1 record, Rodgers has rebounded with an impressive  2019 season. This season, Rodgers has thrown for 2,718 yards and 17 touchdowns, good for fourth and eighth in those respective categories. 
He is flourishing under new head coach Matt LaFleur's revamped offensive system after stagnating in Mike McCarthy's system. Rodgers is once again playing at an elite level and subsequently earning MVP consideration. At 8-2, the Packers are in a prime position to win the NFC North.
2.Jared Goff, Los Angeles Rams
Despite the 5-4 Rams sitting third in the hotly contested NFC West, Goff has been consistently excellent during the first half of the season. Goff has thrown for 2,610 yards whilst averaging 290 yards per game, relying on his productive partnership with wide receiver Cooper Kupp, who Goff has connected with for five of his 11 touchdowns. 
Nevertheless, Goff has to cut down on his interceptions since he has been intercepted nine times. If the Rams plan on clinching an NFC wildcard spot, Goff has to modify his game to prevent the Rams from missing out on the playoffs.
3.DeShaun Watson, Houston Texans 
Watson has been a force this season with the Texans who, at 6-3, are in first in the AFC West. A large part of the Texans' success is due to Watson's clutch play. Watson leads the league in second half touchdowns with 13. Mobility is an important part of Watson's style of play as he has rushed for 242 yards and leads all quarterbacks in rushing touchdowns with five. 
NFL Midseason Top 3 Worst Quarterbacks  
1.Ryan Fitzpatrick/Josh Rosen, Miami Dolphins
Miami's floundering quarterback duo deserves special recognition. The Dolphins' pair of inconsistent quarterbacks have been unable to provide hope to a team that looked like a candidate for a winless season prior to their Week 9 victory against the toothless New York Jets. Through three starts, Rosen has a lowly passer rating of 52, only throwing for one touchdown against five interceptions. The second-year passer has not shown much improvement since his brief stint with the Arizona Cardinals last season. In fact, the most yards he has thrown for in a game is 200 yards during the Dolphins' 31-6 clobbering against the Dallas Cowboys in Week 3. 
Meanwhile, the 36-year-old Fitzpatrick hasn't been much better. His 61.5% completion percentage ranks 28th amongst all quarterbacks who have played in at least three games. Fitzpatrick has also thrown eight interceptions compared to his eight touchdowns. The two quarterbacks are part of a dysfunctional offense (and team) that hasn't gotten any better with each passing week. Barring a late-season resurgence, it is increasingly likely that the Dolphins finish the season at the bottom of the AFC East.
2.Sam Darnold, New York Jets
The Jets' quarterback has a woeful 27.4 quarterback rating (QBR), indicative of how poor Darnold's quality of play has been. Darnold has thrown nine interceptions against only seven touchdowns over six starts, exhibiting a startling regression from his rookie season. Darnold has been sacked 20 times, though that may be attributed to the horrendous offensive line that the Jets currently have rather than his inability to go through his progressions in a timely manner. At 22 years old, Darnold has time to improve but he can not keep playing the way he is right now if he aspires to be a successful NFL quarterback 
3.Baker Mayfield, Cleveland Browns
Mayfield's erratic performances have not only affected himself but the Browns as well. Through nine games, Mayfield has thrown 12 interceptions, second only behind the Tampa Bay Buccaneers' Jameis Winston. For the sake of comparison, Mayfield only threw 14 interceptions in all of 2018. Mayfield's ineffective and reckless play has brought the Browns' offensive to a crawl, increasing the offseason buzz around a franchise that has been enshrined for its ineptitude.
The chances of the Browns making the playoffs are slim, which is partly due to Mayfield's inability to get the ball into the hands of Odell Beckham Jr. Out of 57 targets, Beckham Jr. has only caught 34 passes.
 The Browns expected Mayfield to develop into an upper-echelon quarterback this season. Instead, he's exhibited a disconcerting pattern of regression.
If the league's worst passers don't finish the season strong, some of them may be on their out of the league. Meanwhile, the best quarterbacks can continue to ascend to new heights and make an eventual run to the Super Bowl.