'I was unaware'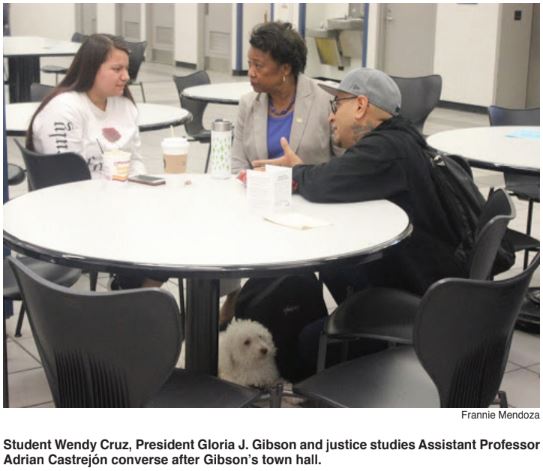 On Tuesday, Sept. 24, university President Gloria Gibson finally presented herself to face her students at a town hall meeting. The discussion was enlightening. For example, we learned that Gibson herself chose political pundits Sean Spicer and Donna Brazile to speak at the Daniel L.  Goodwin Distinguished Lecture Series. We learned that the president is willing to take responsibility for her actions. We also learned exactly what the President is and isn't aware of. 
She told the story of an email she received from a student. Gibson said, "(The student) was writing me because she said that in some of her classes… Students bring their kids… They bring their kids to class. And (the student) said, 'I think the University should provide for students to have facilities where they can drop their (children) off while they go to class.'"
Gibson continued, "What I want you to know is that that email was very important to me because, even though I'm president, I did not know that sometimes students bring their children to class. Because they don't have a babysitter."
Sara Galván Orozco, NEIU senior and student leader, asked president Gibson for resources on behalf of the undocumented student population. Orozco also inquired about whether NEIU would consider helping their DACAmented students with renewal fees and costs associated with staying  in this country and, by extension, at this school. She asked if NEIU might consider providing safe housing or safe spaces on behalf of the undocumented student population. At a time when immigration is under close scrutiny and on the heels of an event on campus that left many students in shock, protecting NEIU's most vulnerable students is not a huge ask. 
"Again, you're giving me information that I do not have and that I am not aware of," Gibson said. 
In 2018, NEIU paid $35,000 for it's "150 Strong" commercial campaign that premiered before the Super Bowl.  According to the Independent's initial reporting, "The ad is to be aired 250 more times from February to April throughout the Chicagoland area on networks such as NBC, Telemundo, YouTube and Facebook with an estimated 4.2 million views."
The commercial was supposed to creatively showcase our student body. It premiered to mixed reviews from students and what it actually did, for me, was showcase more poor messaging. According to Mike Dizon, chief marketing and communications officer, "The ads that aired before and after the 2018 Super Bowl were $20,000 and $15,000, respectively. Because of the high profile nature of the event, the regional ads were viewed twice by roughly 2 million adults in the Chicagoland area, giving us a CPM (cost per thousand) of $17.50 and making it one of the most efficient ad buys we've ever purchased."  
However, NEIU doesn't track the number of people who found the university because of the commercial. So did we essentially give 2 million Chicagoans a 30 second poem to watch that they didn't really understand? 
Until the closing seconds, it was also unclear that the commercial was even for NEIU due to the limited NEIU insignia. When compared to other school commercials with similar branding, messaging and commercial style, NEIU's commercial flopped.  To demonstrate, let's consider the Southern New Hampshire University's (SNHU) "Stand up: Set your own course" commercial before reassessing NEIU's "150 Strong" commercial. Both commercials target the same type of nontraditional students yet only SNHU's commercial was effective in showcasing who its students are and what they could become. 
Since last year, has NEIU learned and improved? The town hall revealed it hasn't. 
I'm sorry, President Gibson, but you have no idea who your students are. Maybe you know the numbers like our average age is 27.8 and 36% of us identify as Hispanic. An even larger percentage of us come from other marginalized communities such as first-generation college students, LGBTQ+ students, low income families or we're just regular old black and brown people moving through heavily white academic spaces. 
I recognize that Gibson was trying to take responsibility for the tone deaf nature of and lapses in communication that occurred with the lecture. I appreciate that she owned up to the fact that she made the decision to invite  Spicer and Brazile and that she did so in order to invite controversy. 
However, you work at this Hispanic-Serving Institution. That means more than numbers. Your students have lives, families and ambitions. They have come to you to help them achieve goals that are important to them and you've insulted them by saying that you "were unaware." 
It's telling of how unaware the administration is. Perhaps it's time for you to truly come meet us. Leave your funky office building and just meet us. Join us in our classrooms, talk to us about how we got here and walk with us through our day. We can tell you more about who we are than any set of numbers can. We can tell you why we bring our kids to class and how stressful it is to try to afford DACA renewal fees on top of tuition. We can tell you why we take busses and trains or drive an hour or more to class just to attend your university.  Being unaware is unacceptable and if you plan to continue insulting students while claiming to care for them, you're one year into a good start.