White Sox of the future: first base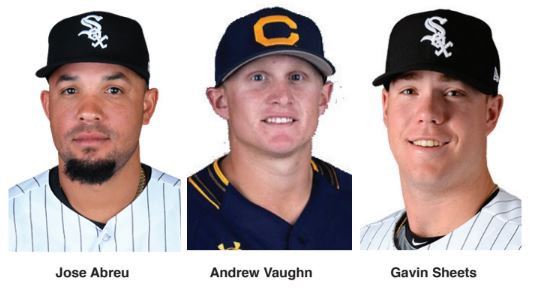 The White Sox have an abundance of talent at first base. This season, José Abreu made history at the Major League Level. Andrew Vaughn was a top-three pick in the 2019 MLB Draft. Gavin Sheets just concluded a season where he led the Southern League in runs batted in. With so many capable options, the White Sox find themselves in the enviable position of having too much talent. In this column, we will consider each of the White Sox' options at first base for the 2020 season and beyond.
José Abreu
José Abreu is the heart and soul of the Chicago White Sox. Since defecting from Cuba back when it was still a punishable infraction, Abreu has embodied everything the White Sox franchise strives to represent.  
He is both a leader and mentor. When asked about the importance of having a clubhouse leader like Abreu, 22-year-old Eloy Jimenéz offered a glowing endorsement.  "José?" responded Jimenéz, "for me, it's been like a father.  When you find someone like that, you don't know how to explain how great (a person) they are."
For the Sox' young core of international talent, Abreu's presence has been imperative towards bridging the culture gap. When Yoan Moncada struggled during his rookie campaign, it was Abreu who took him aside and offered sage advice. When Jimenéz, endured early season peaks and valleys, it was Abreu who served as a steadying presence. 
More importantly, however, Abreu is a Hall of Fame caliber player.  In 2019, Abreu became one of only six American League hitters ever to record four 30 home run, 100 RBI campaigns in his first six seasons. The others? Magglio Ordóñez , Frank Thomas,José Canseco, Joe DiMaggio, and Ted Williams. That's elite company.  
Unfortunately, Abreu's prime years will not coincide with the White Sox perceived championship window. At age 32, Abreu is aging out of his prime as his younger teammates are entering theirs. Despite his continued power production, Abreu's peripherals provide cause for concern.  In each of the past two seasons, Abreu has seen his on-base percentage dip to career lows. As of May 19, Abreu's slugging percentage currently sits at a respectable-yet-unspectacular .505, a full 47 points lower than his 2017 output. However, as White Sox announcer Steve Stone so aptly phrases it, Abreu "is a professional hitter."  A down year for Abreu is a career year for other first basemen. What still stands out the most, though, is Abreu's ability to hit the MLB's best pitchers. While some hitters tend to pad their stats against lesser competition, Abreu continues to inflict his damage indiscriminately.
The White Sox will face a difficult decision this offseason.  On one hand, Abreu is producing runs at a league leading rate. On the other, Abreu is an aging talent with a successor already in place. Abreu has publicly expressed his desire to remain with the White Sox, stating that he wants to see the rebuild come to fruition. Both general manager Rick Hahn and team owner Jerry Reinsdorf have each offered public votes of confidence in favor of extending Abreu's White Sox tenure, with Hahn stating that he foresees Abreu in a White Sox uniform beyond 2019.  Expect the White Sox to reward their franchise player with a two-to-three year contract during the offseason.  
Andrew Vaughn 
The White Sox drafted Andrew Vaughn third overall in the 2019 draft after a tremendous collegiate career at the University of California. As a freshman, Vaughn earned Pac-12 Freshman of the Year honors.  He followed his remarkable freshman campaign by hitting .402 with 23 home runs as a sophomore, earning the Golden Spikes Award, which is annually awarded to the best amateur baseball player in the United States. Vaughn, widely considered by scouts to be the best hitter in the 2019 MLB draft, is expected to accelerate through the minor leagues.
The praise for Vaughn's skillset has come from every direction. Former major leaguer and current MLB Network analyst Eric Byrnes, comparing the similarities between Vaughn and former AL Most Valuable Player Josh Donaldson, opined that Vaughn is "ready to hit the big leagues right now."
"He's probably one of those guys that a lot of people would say is the 'quickest to the big leagues,'" said former White Sox Director of Amateur Scouting, Nick Hostetler. 
Vaughn began his White Sox career with Low-A affiliate Kannapolis Intimidators before earning a quick promotion to High-A Winston-Salem.  Admittedly, Vaughn seemed to plateau at Winston-Salem, though it's reasonable to attribute that to fatigue more than any other factor.  
At this juncture, fans can only speculate.  Nevertheless, there seems to be an existing consensus amongst experts that Vaughn has the opportunity to become a perennial All-Star with the Chicago White Sox.
Gavin Sheets
Gavin Sheets has been overshadowed from the moment he heard his name announced on draft day.  Drafted in the second round of the 2017 amateur draft out of Wake Forest, Sheets first played second fiddle to Jake Burger, the White Sox' first round draft pick that year.  Now, he's believed to be the second best first baseman in the White Sox minor league system behind Vaughn. However, despite the lack of attention, Sheets has continued to solidify himself as a legitimate MLB prospect.
After a fantastic senior season that saw Sheets hit .317 with 21 home runs and 84 RBIs, Sheets was assigned to High-A Winston-Salem for the 2017 season, where he hit for a respectable .293 average.  However, his power production failed to materialize until after his promotion to AA Birmingham, where Sheets led the Southern League with 83 RBIs in 2019. 
Sheets' strengths lay in his smooth bat stroke and above average control of the strike zone.  However, scouts still worry that Sheets' bat speed won't improve enough to catch up to quality major league fastballs.  It will be the White Sox' responsibility to teach Sheets how to better utilize his legs in order to barrel the ball consistently and unleash his full potential.  If Sheets is able to make the proper adjustments, consider him a dark horse contender to man first base for the Chicago White Sox in the near future.  
Honorable Mentions: Matt Skole, A.J. Reed