A good win for civic engagement
On Aug. 22, at 1:06 p.m., President Gloria J. Gibson sent an email to students and faculty at NEIU, announcing that former White House Press Secretary Sean Spicer would speak at the sixth installment of the Daniel L. Goodwin Distinguished Lecture Series. A limited number of free tickets were reserved for the NEIU community before tickets were made available to the public, with the promise that any unclaimed tickets would be released 15 minutes prior to the start of the lecture. So naturally, Pres. Gibson encouraged everyone to arrive early. In the event of an overflow, rest assured, a live feed would play in the adjacent Recital Hall. 
Six days later, an email from Mike Hines, Director of Public Relations, announced that all reserved tickets were claimed and all those reserved for the public had been sold. The same email announced that questions for the speakers were to be submitted by Sept. 9 through an online form. Moderator Phil Ponce would then decide which questions to pose. Less than two hours later, the Student Government Association (SGA) announced a town hall for the next day to allow students to openly express their concerns regarding the event. 
With only 24 hour notice, about 30 students, staff and faculty gathered in the campus cafeteria to discuss possible recourse to address the Spicer situation. With Ombuds officer Tyler Smith serving as moderator, the group discussed the event's unprecedented lack of audience participation, the fear and betrayal felt from inviting Spicer to what they essentially consider their home and what this could mean for the future of an institution that serves a predominantly Latinx student demographic. 
As I sat in attendance, emotions from the gatherers were visceral. And as SGA members compiled a list of questions they promised to deliver to the administration, I knew that regardless of whether or not the University decided to retract its invitation to Spicer, something significant was happening. 
Finally, Sept. 11, the day before the event. At 4:54 p.m., Gibson sent out one last email in response to the rumblings underway. Spicer would indeed take part in the lecture the following day. The protests, she acknowledged, were a sign of a healthy student body, one dedicated to civic engagement. 
The next day, I arrived on campus with my camera in tow and my media pass secured. As a couple protesters sat making signs in one of four "designated demonstration areas" sectioned off by the University, the air was calm. 
Within hours, I stood outside the steps of the Lech Walesa Hall amidst about 200 protesters. Students, faculty and community members took to the megaphone, speaking on what it means to stand up even when you are afraid. In the face of bigotry, they stood and they proclaimed NEIU as their own, an institution not for sale. Then they marched. 
Citing policy and rhetoric from the Trump administration as divisive, harmful, and having the potential to incite violence, the protesters marched to finally stand outside the auditorium doors where the lecture was taking place. 
Over the course of the weeks leading up to the event, there was constant talk of fear, of inviting hate into our hallways, of what it means to be both a member of NEIU and a member of one or more groups so vehemently targeted by the Trump administration. As a woman, an immigrant and first-generation American, I wasn't sure how I felt. I knew I didn't agree with the administration's policies and I knew Spicer to be an undistinguished member of society. But what did this mean for the University and this lecture specifically? What did this mean for the undocumented students at NEIU? These individuals, I felt, had the most at stake at this particular moment in time. 
After documenting the protest and the lecture itself, after hearing both the protesters and Spicer, I am left with one resounding feeling. 
I witnessed undocumented students and citizens with privilege stand side by side. I saw the building of community. Yes I heard Spicer speak. But what I heard louder, what truly resonated with me, and with many others I believe, were the voices of the protesters. 
Spicer is one person. Yes, he once served an administration that's still in office. Arguably, he represents the underbelly of the country who, clinging to the guise of traditional American values, serves to discount, dismantle and terrorize entire groups of marginalized people. 
But what purpose did each protester serve? If I were afforded a bird's eye view of the event, what would I see? I would have seen the hundreds of protesters standing in solidarity. 
Yes, Spicer was on stage. But the message that rose above all was the rallying cry of a community united, practicing its prowess in protest and sharpening its recourse with civil disobedience. I saw a people banded together in power.
Spicer is going to fizzle away into obscurity. And when he does, there will likely be many eager to take his place, spewing the same message. Another proud supporter of conservative social values. One that stubbornly clings to a decaying tradition even when the smell of fresh new insights, ideals and values blossom under their nose.
Was inviting Sean Spicer to NEIU in essence providing him a home? Or rather was this the perfect opportunity for students to practice their freedom of speech and push back? In their home. Where they are safe. Where they know the corridors. They know the exits. A place with less at stake. 
Because outside of our homes, we don't get to shut down those whose opinions we disagree with. Or at least we don't get to shut them down in the places that really matter. Unless we come prepared. And that's exactly what Spicer was. A preparation for the larger monsters at hand. He's the little monster in the neon green frilly shirt you have to defeat before you get to the big guy. And no, the big guy isn't an orange monster. If only it were that easy. 
The real monsters are way more subtle and insidious in their attack. They are the institutions that allow for the breeding of the administration we see today. The larger corporations that lobby and directly affect policy. The lack of civic engagement at the federal and local level. Because face it. If these monsters weren't in office, it wouldn't matter. 
What matters is individual passion funneled and aimed to drive home the bigger cause. What matters is using the power of our vote to change the individuals in office-from President to Congressmen to Mayor to Alderman. All of these people are the drivers of democracy. 
This event made us stronger in our ability to band together and our ability to articulate our values. It reminded us that we must not discount our discomfort because amid discomfort is camaraderie. Sometimes our wounds have to be placed in plain sight to see that we are not alone. That there are much bigger issues at stake than Spicer speaking at NEIU. 
These are the events that ignite passion. Not just reading about it in a book or seeing it on TV. First hand experience, whether as a member of the targeted group or as an ally. That's what fuels a movement. 
Before this, I didn't know about the Goodwin Lecture Series. I didn't understand, viscerally, first hand, what it means for money to buy time, to afford a platform. I mean, yes, I knew. But I didn't personally understand the implications. Now I do. And you better believe I will pay attention- to Goodwin, to the way we use platforms to drive rhetoric and discussion, to how money is spent, to how a publicly funded university can use private funding. I might have watched before, but now I watch with a knowing eye. And all those who were directly involved will watch differently too.
That's what engagement is. You have to engage the enemy to destroy him. And what better place to do it than on our home front. In two months, maybe even in two weeks, Spicer's trip to NEIU will be a thing of the past. What remains are the mass deportations, the cages at our borders and the continued criminalization and dehumanization of asylum seekers from Central America. So let's learn from Spicer and set our sights on our next target. We've got a lot to choose from.
Leave a Comment
About the Contributor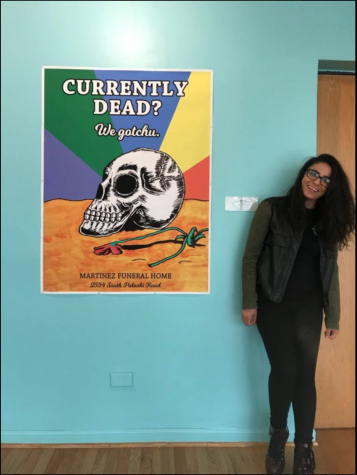 Ata Younan, Opinions Editor
Ata Younan is a multimedia storyteller, yoga instructor, and advocate for authentic living through the avenues of introspective, interpersonal and intercultural...