Nuevas Voces plays lift up NEIU voices
Third annual edition of playwriting competition and festival at NEIU
The Nuevas Voces Playwriting Competition and Festival is a unique NEIU tradition that honors and amplifies the voices of NEIU students and community members. The third annual edition will be held in the first week of October. Jim Blair, longtime faculty member at NEIU, founded the festival to provide students with a platform to showcase their playwriting skills and to provide them with the opportunity to see their original work staged. The entire festival is produced and performed by an ensemble of actors from the Stage Center Theatre. This year's actors include seven current NEIU students and one NEIU alumnus.
The contest portion takes place every year in the spring semester. The contest participants submit their work in January, the winners are announced in March and the winning pieces are performed together as a festival taking place in the following Fall semester. Submissions to the competition are 10 minute plays which fall under one of three categories: NEIU, community and high school. Typically three to five plays are selected by a committee as the winners to be produced for the festival. The 2019 selection committee is comprised of Sarah J. Fabian, Managing Director of Stage Center Theatre, Adam Goldstein, Artistic Director of Stage Center Theatre, Rodney Higginbotham, NEIU Professor Emeritus and Becca Peterson, NEIU alumni and former Nuevas Voces Prize winner. This year, the four plays that were produced won the prizes for 1st, 2nd and 3rd place as well as a, honorable mention selection, and even included a work written by a Buffalo Grove area high school student.
"We get all sorts of plays, a variety of voices, we get all types of genres and styles. One evening at the university and you get four different plays with four entire different feelings, but you can see how every story talks to every other story," said Artistic Director Goldstein. With four different plays, the producers of the festival producers look for creative ways to connect the plays to one another, such as a song linking from one play to the next or a prop that gets used in a distinct way for each piece. Hence, these plays can be viewed as related or even in conversation with each other.
According to Goldstein, his favorite aspect of the festival is the opportunity to dedicate time in the Stage Center season towards providing the space to exhibit the amazing talent found within student-driven, community-generated work that speaks both to and for the student population in a relevant and vital way."I think student-driven work performed by the students is a really unique collegiate experience, said Goldstein. "It's been really meaningful for the students and faculty who have participated because we know how meaningful it was to Jim Blair to showcase student voices."
The titles and writers of the plays to be performed are as follows:
1st Place: "The Fear of Little Things" by Shannon Naylor – Prize of $200

2nd Place: "Live it Up List" by Emily Feldman – Prize of $150

3rd Place: "Frosted" by Ariel Notterman – Prize of $100

Honorable Mention: "Too True to be Good" by Shamus "James" Jarvis – Prize of $50
A reception on opening night will be held for an opportunity to share some food with the playwrights and congratulate them on a job well done. The dates and times of the performances are Thursday, Oct. 3, 7:30 p.m. – 10:30 p.m with the opening reception held at 6:30 p.m., Friday, Oct. 4, 7:30 p.m. – 10:30 p.m., Saturday, Oct. 5, 2 p.m. – 4 p.m. and Saturday, Oct. 5, 7:30 p.m. – 10:30 p.m. Tickets for students and faculty are free.
Leave a Comment
About the Contributor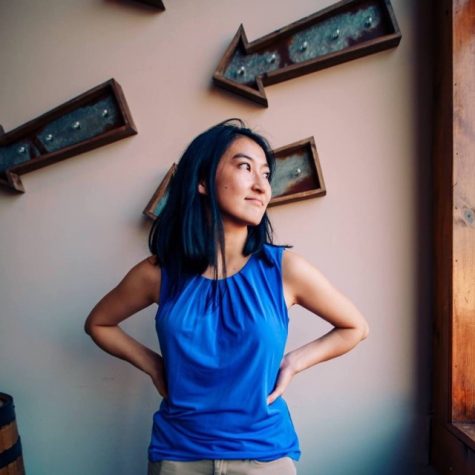 Grace Yu, Campus Life Editor
Grace Yu is a senior majoring in English and Philosophy. She will graduate in May 2020.