Students 'unafraid' to talk about free speech
One hour before NEIU's Daniel L. Goodwin Distinguished Lecture Series was scheduled to host Sean Spicer and Donna Brazile, approximately 200 students, faculty, staff and community members gathered in front of Lech Walesa Hall to protest the former White House press secretary's presence on campus.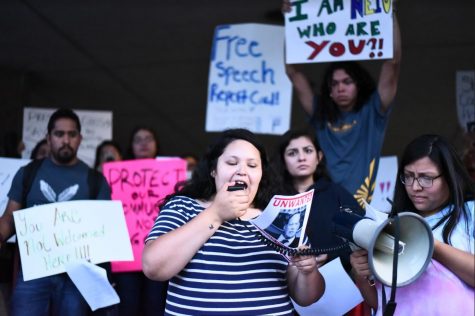 Gabriela Loreda, an undocumented NEIU student in her third year, set the tone for the evening when she took hold of the megaphone and said, "We must continue to fight for those who have come before us. And for those that will come after us. We must fight for our brothers and sisters who face oppression. We must continue to fight for those who live in the shadows. We must continue to fight for those without a voice. Today, I stand before you, undocumented, unafraid and unapologetic."
An organization called the Killjoys, a student-led coalition working to end white supremacy on NEIU's campus, also spoke to the crowd.
Represented by Raeghn Draper, the Killjoys had a message to share not only with the protesters, but also with NEIU as a whole. "If the administration continues to ignore us, we will make them listen. So thank you all for taking a stand with us against this disgusting assault against students' voices. We will be loud and we will be heard because this was our campus and we do not want this hateful white supremacy bullshit in our schools."
Parameters were set for the protesters by a group of safety marshals intending to keep the crowd organized and peaceful. They explained that the goal for the protest was, "no one gets arrested and no one gets suspended." Aside from the safety marshals, four members of the National Lawyers Guild were present to ensure that protesters were being treated fairly by both the NEIU Police Department and the Chicago Police Department and to gather information in the hypothetical situation that someone did get arrested.
One student, Steve Mendez, broke off from the protest and rushed the auditorium stage. He was quickly detained by NEIUPD and held in the police station until after the protest was over. 
Chant lists were passed around the crowd to help orchestrate a unanimous voice. Some of the chants included, "Show me what democracy looks like, this is what democracy looks like," and "Sean Spicer, paid liar."
Sarah Smith, a social work major at NEIU, said that NEIU failed to respect students' freedom of speech. "Our freedom of speech is not even being taken seriously right now. We only have one of the four components of freedom of speech. [They] consist of speaking your mind, which we have, but we do not have the freedom to question, the freedom to contradict or the freedom to lampoon." Smith followed up with her expectations for the protest. "I think it only takes one person to make a change and we have a lot more than that."
Student Wendy Cruz addressed the crowd and said, "This does not end today or tomorrow. This ends when we have equity across all spectrums of society, even when the Trump administration systematically tried to deny us dignity. This is our home." 
Towards the end of the protest, Cruz felt light-headed from chanting and attempted to access a water fountain. She was barred by seven CPD officers who had set up a wall of bicycles meant to keep protesters clear from doors designated for event attendees to use as exits. Justice studies assistant professor, Adrian Castrejón, scolded the police officers and escorted Cruz away to get water.
Several students, alumni and faculty with valid tickets were denied entry into the event. There was a stipulation in the ticket sales that indicated if the tickets were not claimed by 7:15 p.m., they would be given away. However, even if entry were allowed at that time, the south doors to the auditorium were locked from the outside. While push bars were located on the inside of the doors for a safe exit from the auditorium, the doors were locked from the outside to allow police to "focus on only one entry point into the auditorium halfway through the event," according to NEIU Chief of Police John Escalante. 
When the lecture ended at approximately 8:45 p.m., the protesters congregated once more to discuss how the event went and what was accomplished.
University President Gloria Gibson decided to refrain from commenting on the protest until the follow-up town hall scheduled for Tuesday, Sept. 24 at 5 p.m.