Greta Thunberg is the coolest girl in the world
Greta Thunberg, the coolest girl in the world, arrived on U.S. shores about two weeks ago, on Wednesday, Aug. 28, at a Lower Manhattan marina up the Hudson River. Thunberg, a climate activist, arrived on a carbon emissions-free yacht named Malizia II with her father and a small crew provided by Team Malizia, skippered by professional sailor Boris Hermann and Pierre Casiraghi, a nephew of Prince Albert II of Monaco. At a mere 16 years old, the Swedish teenager is a rare beacon of hope for a still-tender but already jaded Generation Z. She is due to attend the U.N. Youth Climate Summit in New York on Sept. 21, joining a throng of young, progressive environmentalists stateside.
In addition to her organizing work in climate action, Thunberg has spoken publicly on social media about her Asperger syndrome, calling it a "superpower." With 3.1 million followers on Instagram and 1.35 million followers on Twitter, her confident and exuberant response about being on the autistic spectrum hits back to her many outspoken critics who use the Web as a public forum in an attempt to derail her movement. And they have done so even in the cruelest of terms, commenting on her facial expression, her appearance, etc. In fact, when it comes to social justice action, Asperger's may have even granted Thunberg an advantage, since people with this diagnosis are often known for their directness.
The most talked about aspect of Thunberg's voyage, which set across the sea from Plymouth in the southern UK, is her preferred mode of transportation.
"Rather than flying, she (Thunberg) sailed across the Atlantic in an 'emissions-free' yacht in order to spare the earth's atmosphere the exhaust from a plane that was flying to New York anyway, with or without her," wrote Niall Ferguson for The Boston Globe. This sort of commentary misses the point with the fine grace of a sledgehammer missing a nail on the head. 
Thunberg's actions show us, the Western world, what is possible. Her emissions-free trip is performative in the sense that no individual consumer choices cannot change systemic injustices, but they do make a highly publicized statement. That if one person can view lifestyle choices of lesser convenience as a small sacrifice to make for the planet, then so can all of us.
Millennials are far more immune to the naysaying, and House representative Alexandria Ocasio Cortez (NY-14), one of the Green New Deal's strongest advocates, is one of Thunberg's most prominent allies. Intergenerational conflict does not materialize here.
"This Entire Week Has Been Incredibly Depressing. But Then I Saw a Young Woman Give People Hope," reads the title of a Mother Jones article published online last Friday, Sept. 6. This is the sentiment that I, a decade older than Thunberg, share profoundly when it comes to the adolescent vanguard of this new international movement.
In August 2018, Greta Thunberg started skipping school every Friday to sit outside the Swedish parliament and protest world leaders' inaction towards mitigating the impact of global climate change. The movement, which has grown worldwide to inspire weekly strikers on every continent, is called "School Strike for Climate." 
14-year-old Alexandria Villaseñor, who is only in the 8th grade, is the organizer of the stateside student-led movement called Fridays for Future. Thunberg has been joining them while in New York, lending support to the protesters whose three simple and actionable demands are: "no more fossil fuels, a just transition to 100 percent renewable energy by 2030, and holding polluters accountable" reports i-D magazine.
17-year-old Xiye Bastida, an indigenous Otomi Toltec climate activist also in New York, told i-D, "We as youth cannot vote, and you know that. Our civic duty is to go to school. We are disrupting that so that you pay attention to the crisis that we're going through." 
When youth clamor for widespread social and political change in our day, I am reminded of the revolutions of the Long Sixties, the heat of change encircling the globe: Civil Rights and anti-Vietnam War protests in the U.S. and the establishment and subsequent collapse of Communist governments and demonstrations by Leftist movements the world over. During May of 1968 in France, workers and student intellectuals chanted in solidarity, Soyez réalistes, demandez l'impossible! – "Be realistic, demand the impossible." 
How astute of an observation would it be to say that something feels different this time around? The new chant of the youth is, "We are unstoppable, a better world is possible!" It is almost as though the lessons of generations past have taught this new movement to, for the sake of being realistic, make demands born of concrete political possibilities rather than abstract ideals. It is one thing to write treatises on the ills of capitalism, it is quite another to recognize that industrial capitalism may change the fundamental chemistry of the planet and kill us all.
Activists such as Thunberg and Ocasio-Cortez -her equally criticized compatriot across the Atlantic -are the recipients of attacks by climate-deniers who a growing body of research has linked to gender reactionism. At Chalmers University in Sweden, Jonas Anshelm and Martin Hultman published findings that suggest the values of climate-deniers are consistent with proponents of a "masculinity of industrial modernity that is in decline." The study states, "these climate skeptics tried to save an industrial society of which they were a part by defending its values against ecomodern hegemony."
So why do we call Thunberg and her fellow activists cool? Youth, social media savvy, progressive values and their wide reach, their ability to relate to large swaths of the Millennial and Generation Z masses may be enough to make them likable and hugely popular, but not enough, per se, to make them viable political leaders in the global culture wars. Why take their lead? Is theirs a movement that can actually win? Supporters of this declining masculinity of industrial society in the Western world seem to be afraid of women and children; do we really live in a world where little girls often possess the courage to face reality, and old men seem to only rarely? So this what we are now up against.
The truth is that women, children, minorities and other oppressed groups bear the brunt of the most dastard effects of industrial capitalism, which is only sustainable at a high cost to the most vulnerable sectors of human society and to equally vulnerable natural resources. The personal experience of these activists, which instates in them differing values from those of the (now-changing) status quo, makes them, above all, realistic. Maybe it doesn't sound quite sexy. But this realism, paired with inextinguishable hope, is what has given girls like Greta Thunberg the daring to make some noise and make the change. 
Leave a Comment
About the Contributor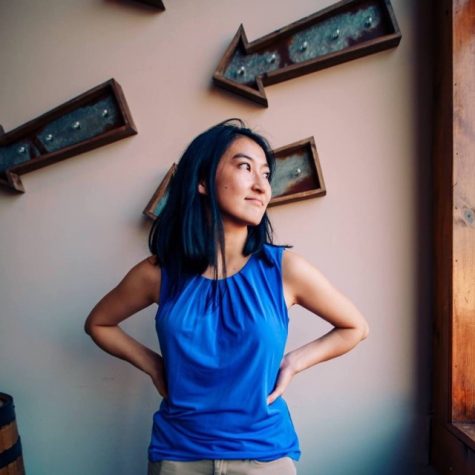 Grace Yu, Campus Life Editor
Grace Yu is a senior majoring in English and Philosophy. She will graduate in May 2020.