Community petitions dis-invitation of Spicer
The controversial invitation elicits protestation and almost 500 signatories to demand withdrawal of the invitation.
"Dear Dr. Gibson, we are appalled that former White House Press Secretary Sean Spicer has been invited to speak at Northeastern Illinois University. This is an insult to all NEIU students and employees who are members of groups targeted with violence and vitriol by the Trump administration," reads the circulating petition to withdraw Spicer's invitation to speak at NEIU on behalf of the upcoming Sept. 12 Goodwin Lecture Series. 
"Spicer was the willing mouthpiece for Trump's vicious assaults on immigrants, people of color, women, LGBTQ people, Jews, Muslims and other oppressed groups. We implore you to withdraw this invitation because Sean Spicer—and his boss, Donald Trump—do not uphold NEIU's strategic values," it continues.
The 495 signatories (the count as of early morning Sunday, Sept. 8) accumulated by the petition include NEIU faculty, staff, students, alumni, community members, Chicago alderperson Rosanna Rodriguez, unaffiliated persons, the NEIU Student Government Association (SGA) and even a former classmate of Sean Spicer. All grant their names to a letter expressing deep concern, even lamentation, towards the former press secretary's invitation to speak at the NEIU North Side campus.
"Hosting former Trump Press Secretary Sean Spicer at NEIU would violate our responsibility to support and respect our students. NEIU must not financially reward complicity in the administration's bigotry, discrimination and violence," said Brett Stockdill, Professor of Sociology at NEIU, who started the petition.
WBEZ News reported that a combined $50,000 was committed towards paying Spicer and Donna Brazile, former chair of the Democratic National Committee (DNC), for their upcoming discussion here on campus. The speaking fees will not come out of public funds, but out of contributions by Daniel L. Goodwin, the donor who lauds his own name through the establishment of a lecture series. 
However, the consent to host a guest as controversial as Spicer is seen as capitulation towards the actions of accomplices who propped up and continue to prop up Donald Trump, or at the least, as a sort of complicity in Spicer's self-adulation.
"The thing with Spicer is he's using this kind of secular sacredness of this university as a free speech zone to redeem himself for bad past actions. So I really think of him as manipulating what I kind of hold as a precious thing about free speech as a way of being an apologist for himself," said Sophia Mihic, Professor of Political Science at NEIU.
"This is a university of many first-generation students and of many of the identities that are being targeted by the Trump administration. So he may not be taking part in things that are happening now, but he is turning to us to validate him now," she continued.
Disagreement with the political ideologies of invited guest speakers to university campuses, (Milo Yiannopoulos at UC-Berkeley in 2017 and Charles Murray at Middlebury College, also in 2017) has invoked protest surrounding the issue of free speech in the recent past.
"My first inclination was not to sign [the petition] because I am a strong advocate of free speech. But in running through a conversation with a friend of why I'm an advocate of free speech, I came to the view that that's not what this is about. I think it's about condoning or not condoning action," explained Mihic.
Stockdill further explained his reasoning for starting the petition in terms of the right to freedom of expression.
"Disrupting an event like this is an expression of free speech. Such disruption is necessary to lift up the voices of those who stand against anti-Semitism, Islamophobia, racism, sexism, homophobia and other oppressive systems," he said.
The NEIU community has opted via petition to amplify the expression of the masses oppressed under that very same administration.
View Comments (2)
About the Writer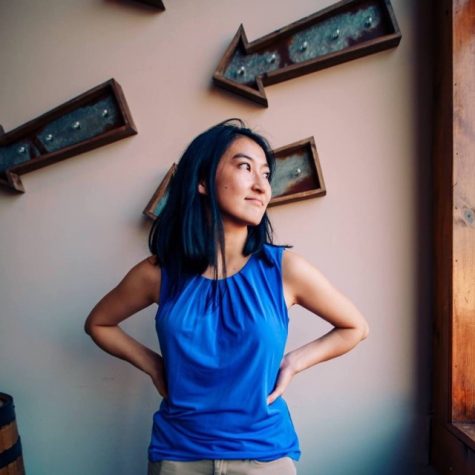 Grace Yu, Campus Life Editor
Grace Yu is a senior majoring in English and Philosophy. She will graduate in May 2020.