'I was raised on the internet' reflects on the effects the internet has on today's society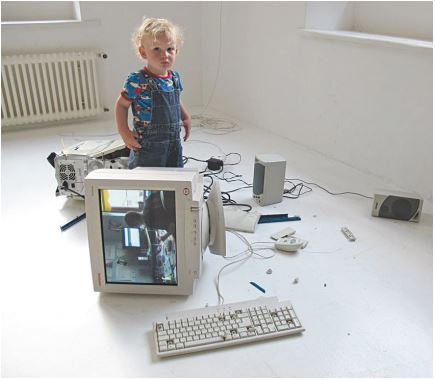 Grace Yu, Campus Life Editor
October 9, 2018
Our world as we know it is dominated by the World Wide Web. The lives of many people in the 21st century were profoundly formed and informed by the Internet and a slew of various web-related technologies and applications. 
The exhibit "I Was Raised on the Internet" at the Museum of Contemporary Art is an attempt to showcase how art – in a wide spectrum of material forms from painting and sculpture to photography, video and mixed media – utilizes the Internet as both medium and subject.
The exhibit showcases how the internet both resists and encourages speed in communication and social change, and frustrates and inspires social connection. 
Even the title of the exhibit, "I Was Raised on the Internet," inspires multiple meanings. "I was raised on the Internet" can mean one's diet, like we are relying on the internet for nutrition to grow. Or it can mean we are living on the internet as if the Internet were a planet, a place.
A brief walk-through stimulates reflection on how the Internet and 21st century technologies are incorporated into visual and narrative craft, especially in works that are more conceptual and depend on the expression of a concept or abstract idea. 
Argentinian artist Amalia Ulman's photographic work "Excellences & Perfections (Instagram Update, 5th September 2014)" fascinated me the most because of the way social media was manipulated to reflect how it's a form of communication. It is an artistic and social experimental piece, a performative work in which she gives herself an extreme makeover (parts of which were faked), documented the changes on Instagram, and subsequently fielded and tracked comments from a large number of  Internet trolls.
Similarly, the intrigue of creative works that are Internet-based in both form and/or content can be seen in Dutch artist Constant Dullaart's photographic series, "Jennifer in Photoshop, Creative Suite 6." 
The pieces in the museum collection "Glowing Edges_7.10" and "Plastic Wrap_20.15 15" I believe question the very nature of authorship and of curation and exhibition since Dullaart chose the photograph for his series but did not take the original photograph or edit it into any of its versions. 
The photograph was taken by the cofounder of Photoshop John Knoll. It depicts his wife Jennifer sitting on a beach. Dullaart found it (presumably somewhere online) and argued that it should be considered a piece of the history of photography and viewed publicly. Push-back from the Photoshop community insisted that it should be considered private property. 
Matthew Angelo Harrison's series of 3-D printed African masks use a high-tech tool to interrogate the politics of appropriation, and the limits and potential of reappropriation. 
In Douglas Coupland's photographic prints, faces are painted over with colorful blocks with in acrylic paint as a symbolic statement to attempt resistance of the social implications of facial recognition software and other digital means of data retrieval. 
Rounding out the exhibition are a number of very weird (but good) video installations, interactive components to encourage patron activity, and a thorough online archive of scholarly articles offering critical theoretical perspectives on artistic and social engagement with the world of the Internet.
The exhibit "I Was Raised on the Internet" is available for viewing at the Museum of Contemporary Art (MCA) through Oct. 14. The MCA is located at 220 E Chicago Ave. Admission on Tuesdays is free for all Illinois residents; however on other days, student discounts are offered with a valid student ID. Bring a date! Bring a friend! Go see this exhibit!