What's the Matter With Derrick Rose?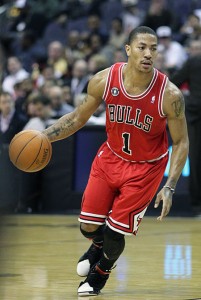 Almost a year ago, Chicago Bulls point guard Derrick Rose suffered a torn left ACL during the first round of the 2012 NBA playoffs. Pending a successful surgery to repair the injury, Bulls team physician Dr. Brian Cole gave Rose an eight-to-12 month recovery timetable. The surgery was successful, so fans have to wonder, then, what Rose is thinking by deviating from his rehab repertoire.
A standard rehabilitation schedule for an injury like Rose's includes approximately five to six months of physical therapy, beginning with standard rebuilding and strengthening of the injured area, and subsequently focusing on workout routines that relate more specifically to professional basketball abilities. By November 2012, Rose was cutting on his repaired knee, and Bulls head coach Tom Thibodeau was confident that Rose would be able to return during the current season. By the end of January, Rose was involved in full-contact practices with the team, and would soon start participating in 5v5 scrimmages.
Strangely, in mid-February Rose said, "I'm not coming back until I'm 110 percent. Who knows when that can be?" He went on to say, "It can be within a couple of weeks. It could be next year. It could be any day. It could be any time. It's just that I'm not coming back until I'm ready. With all the hard work I've been putting into my craft, I think I'm going to be OK."
No one would begrudge a player for making sure he is completely confident physically and mentally before returning to the floor, but something must be said for an organization that allows a player, even its star player, to dictate his own recovery schedule that contrasts what the doctors say.
In early-March 2013, Rose's doctors cleared him for live NBA gameplay, stating "that there is no more chance of the former MVP getting injured upon his return than anyone else. He can play now." It was not beyond reason to expect to see Rose suited up in his Bulls jersey, on the court playing diminished minutes. More realistically, it was, and should have been, fully expected that Rose would be playing again by the middle or end of March. That was not the case, and Rose still has yet to play any minutes of game-speed action.
So why the delay? If the doctors have cleared him, and the organization is ready to play him, why has Rose deviated from his medically dictated recovery process? That's right, included within that eight-to-12 month timetable was time allotted for diminished NBA gameplay. When the doctors cleared him in early-March, that meant that was the time Rose was supposed to continue his recovery process and start playing again. Rose has claimed that until he is completely confident dunking the ball off of his injured leg, he will not return. This is disappointing because not only has Rose been seen actively dunking off of both legs, but it proves that his decision to stay off the court is absolutely psychological, and not physical in any capacity.
As the playoffs get underway, the Bulls and their fans are still questioning when Rose actually intends to come back.
Rose has discussed possibly returning during the playoffs, but has also openly accepted the possibility that he will not play at all until next season. The problem here is that this should never have been a possibility at all. Rose was supposed to return in March, and he individually chose to deviate from his prescribed rehabilitation regiment. There is no possible way to recreate game-speed play other than to actually participate, and by waiting until next season, Rose will have delayed completing his recovery for upwards of six months.