Spring has awoken!
NEIU music enthusiasts! Get ready to bloom this season with rich sounds organized by React Presents Spring Awakening Music Festival 2019.
This festival will be from June 7 to June 9 at Poplar Creek in Hoffman Estates, Illinois. React Presents is featuring more than 90+ artists this year, featuring the rapidly growing electronic music genre in our Chicagoland area.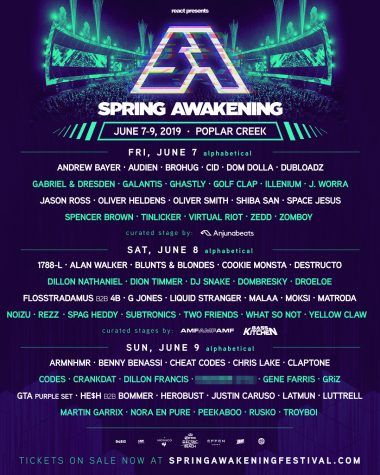 React Presents is setting up five unique stages across 27 acres of land with interactive art installations and will feature notable artists like DJ Snake, Excision, Galantis, ZEDD, DJ Martin Garrix, GRiz, Benny Benassi, Alan Walker, What So Not and many more. They even have carnival rides set up!
This is an amazing event to attend if you are someone who is not aware of the electronic music genre. Electronic genre is music created using electronic instruments.
The most fascinating thing about this genre is its ability to combine other genres like hip-hop, rock, jazz, blues and many others to produce completely new forms of music. For example, the fusion of jazz with electronic genre creates nu jazz, hip hop with electronic creates trip-hop, and pop with electronic music creates electropop respectively.
Don't simply take my word for it because the best way to understand this genre is through listening!
If you would like to acquire massive amount of experience and information about the electronic music culture or simply would like to listen to your favorite artist live, then grab your tickets now
at www.springawakeningfestival.com.
They are providing free shuttle service from nearby Metra stations to the Spring Awakening festival if you are taking public transport. They are also providing parking on site if you are traveling by car for a cheaper price than last year. Keep an eye out for our review of Spring Awakening in our next issue.