Can we work, pause and thrive for parenthood?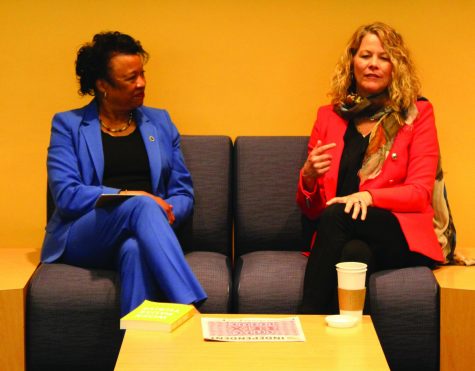 Many aspects of American parenthood have changed in only a few decades. However, many, if not most of our systems have not changed. Rather they have become more expensive to access. Rent is rising, college tuition is rising and cost of life is rising. Whereas, pay is not.
Many companies are built around the "ideal worker" theory. The "ideal worker" is someone who is available all the time and has someone available to take care of his/her children. However not many people can afford to be "ideal workers."
As active members of our country, we should all step up and mentor and sponsor current and future parents.      
On May 2, a crowd of about 25 NEIU students, instructors and community members gathered to listen to NEIU President Gibson, and author of Work Pause Thrive, Lisen Stromberg, have a fireside conversation about the state of parenthood in the U.S..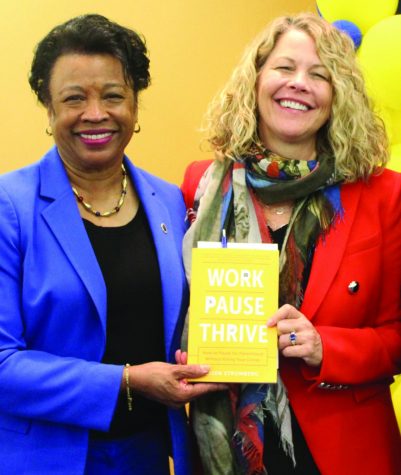 One purpose of this event was to bring awareness of the current state of parenthood.
Today, family structures and roles have shifted drastically. No longer does one parent go work and one stays home raising the children. Now, in most families, both parents have to work.
As a result, many people are opting to not have children or are waiting until an older age. It is important for people to have children because if not our population will decrease. We need people to keep this country going.
According to Stromberg, our current culture "doesn't value that which is most important to us: our families." Families are what keep countries running.
Good family structures raise children who contribute positively to society. We have to make sure that we create a culture where people who want to have children have access to affordable resources.
NEIU serves about 7,570 students of all ages, many of whom are parents. NEIU tries to help it's student-parents by providing programs such as child care, mentorship, and advocacy.
Child care is expensive and complicated without a strong family circle. According to Verywell Family, the cost of daycare in the U.S. is $11,666 per year ($972 a month).
One of the main reasons many students choose NEIU is because it is one of the most affordable 4-year colleges in Illinois. Therefore paying this much for child care is almost impossible. Many student-parents have to make the choice between tuition and childcare.
NEIU has a Child Care Center that serves children from toddlers to kindergarten aged children. This resource offers convenience to parents. Without programs like this, many students who are parents would not be able to succeed academically.
Systems like this are what many people such as Stromberg want. According to Stromberg, there is no systematic support for parents in the U.S.
A few decades ago life was more linear.  Today, there are more paths to choose from. Stromberg says, "It is a different world".  It really is.
Today there are more career choices and lifestyles. Many of these new paths that have been created are near impossible to pursue for many parents.
One topic that arose was the difference between mentorship and sponsorship.
In order to succeed, people need support. A mentor can be one of your parents, a teacher, an employer. In essence, a mentor is someone who is present, guides you, answers your questions. A sponsor is someone who gives you money.
We can all be mentors and sponsors regardless of our status. From teaching a child how to tie their shoelaces to giving someone an opportunity at a company. President Gibson said, "as a mentee you have to listen.
It's absolutely okay to ask your mentor follow up questions." It is important to ask questions.
After President Gibson's and Stromberg's conversation, audience members were given the opportunity to comment and ask questions. Why has parenthood become harder?
Primarily, The economy. Student loans, rising rent and gentrification are all impacting parenthood. Something has to change. One student said, "Rising rent prices. Rise of prices makes it impossible to have that one person make that full pay."
As an attendee I was struck with the realization that parenthood is currently in a tough spot.
A good economy equals more parents. Like I said before, we must support current and future parents by being mentors and possibly sponsors.