Spring commencement speaker inspires self-advocacy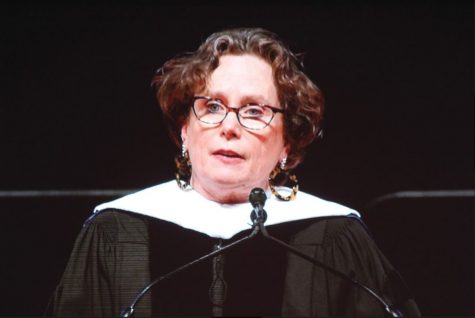 Maria Woltjen gave the commencement speech at NEIU's 2019 graduation ceremony on May 6.
The founder and executive director of The Young Center for Immigrant Children's Rights at the University of Chicago Law School, Woltjen spoke about the primary purpose of the organization and the individual lives that she affected through her work.
Her main focus as a professional is on reforming the immigration system. According to Woltjen, she aims to change the system "in which children are treated as adults in to a system that recognizes children as children with rights and protections all their own."
She was named a 2018 Chicagoan of the Year by Chicago Magazine because of her work at The Young Center, where she has helped to advocate for the safety of separated immigrant children from countries like China, El Salvador, Guatemala, Honduras, India, Mexico, Romania and Somalia.
Woltjen received the 2017 UNICEF Chicago Humanitarian Award. She was also the recipient of the 2013 Ruth Goldman Award from the American Constitution Society for Law and Policy for her work on protecting the rights of immigrant children, especially those who enter the United States without a parent or guardian.
In her speech to the graduating students of NEIU, she talked about why each individual student's story is important in relation to her own journey. "I was born in Missouri and I was one of nine kids. There was never enough. You would either get to the dinner table on time, or you would miss out," said Woltjen.
In her adolescence and early adulthood, Woltjen feared being judged by her peers because of her childhood, but she told NEIU students that she now realizes that  "everything that happened to [her] shaped who [she is] today and has given [her] strength and perspective."
She spoke about the stories of individual children that she personally served – from their original struggles to the resolutions that she was a part of creating. Helping to change the legislative system that treats them as adults is what she claims is her purpose in her career.
She left the graduating class with a farewell and a final thought: "all of you here today come to this single place with your own stories and narratives. Many of you are here, I'm sure, after many detours. Some of you supported yourselves financially as you went to classes, many of you are immigrants or children of immigrants. And all of you know what it means to advocate for yourselves."