Bernie Sanders Stops in Chicago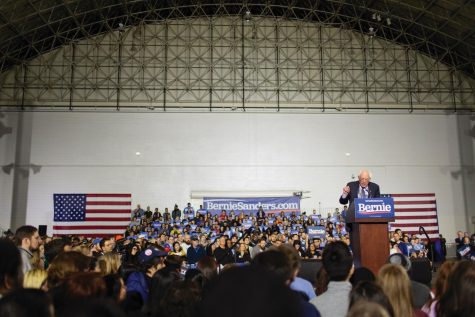 More than 12,000 people traveled to Chicago's Navy Pier on March 3 to hear Sen. Bernie Sanders (I-Vermont) speak to the masses about his ideals, values, activism, presidential candidacy and to call to action: "…real change never takes place from the top on down. It always takes place from the bottom on up," Sanders said. 
The visit in Chicago was one of the many stops for his 2020 presidential election campaign. 
During Sanders' 2016 presidential campaign, Sanders appeared on a New York radio show, The Breakfast Club, said his run he was "criticized for being too male. That was a correct criticism. That was a correct criticism."
Sanders promised the radio show that things would be different this campaign. "We'll have a much more diverse campaign," Sanders said.
Before Sanders' speech, Destiny Harris, an 18-year-old self-took the stage and said, "I am a black, queer, low-income, artist, poet, woman, resistor from the West Side of Chicago… And despite how young I might look in comparison to everyone else here, including Bernie, I am in fact 18 years-old and of voting age."
Harris' activism started before 18; she became involved in the No Cop Academy campaign, an organization against the $95 million police training academy which Chicago Mayor Rahm Emanuel decided would be built in the "Chicago neighborhood with the lowest per capita income." That neighborhood is where Harris calls home.
She said, "This is the neighborhood that I live in. This proposed police training academy comes years after the closing down of 50-plus schools under the claims of the city not having enough money to invest in dilapidated, discarded schools."
The police academy academy was the mayor's response to Chicago police officer Jason Van Dyke murdering teenager Laquan McDonald, stating that the police officers need better training.
"Let's remember a building is not the same thing as curriculum… I did not know economic development looked like more investment in jails, policing, and mass incarceration." Harris said.
Sanders was a political science major at the University of Chicago in the 60s. While at the university, Sanders and other organization members held a sit-in to protest the discrimination and racism of the apartment building and the university.
"My four years here in Chicago was an extraordinary moment in my life and very much shaped my worldview and what I wanted to do," Sanders said, "I should also say while the University of Chicago was, and is, an excellent school, the truth is that I learned a lot more off campus than in my classrooms. Now, that doesn't mean that you shouldn't go to your classes…
"As someone who came from a working class family that didn't have a lot of money, Chicago provided me for the first time in my life the opportunity to put two-and-two together in understanding how the real world worked, to understand what power was about in this country and who the people were who had that power."