Review: "Yeah Yeah Yeahs" – "Mosquito"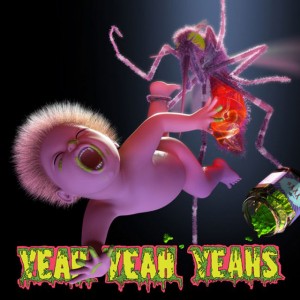 4.0 out of 5 Stars
It's arduous work to even begin thinking about a new Yeah Yeah Yeahs (YYYs) album after 2009's nearly perfectly crafted It's Blitz. It's an album that has a balanced mix of keyboard and program tinkering, while maintaining a certain experimental garage rock vibe. It's a composite of ferociously heavy hitting moments that ring true to Fever to Tell, as well as slow paced, ghostly ballads that conjure up colorful thoughts of Show Your Bones. Essentially, It's Blitz was the New York trio's attempt at creating a seedy dance party underneath their native subway system. The beauty of YYYs lies in their ability to produce such distinct albums while orchestrating them in such a way that feels familiar in relation to past works, but coming across as well prepared introductions.
Lo and behold, listeners are introduced to YYYs again by way of a fourth full length studio album: Mosquito. It's Karen O's vocal range; from a secretive whisper to a sexual war cry, Nick Zinner's transforming guitar work, and Brian Chase's drumming that borders on the technical and the tribal that collectively make up anything from neo-soul music to huddle-around-a-fire-in-the-cave imagery.
Mosquito opens with "Sacrilege," a mild bass and drum lovesick trip, gradually building with echoes of quickly strummed guitar chords and muted twinkling that leads to a gospel choir chiming in unison. "Subway" is Karen O at her most somber, as a looped train car clamors against tracks for percussive effect. If this is the bands homage to their hometown, overpopulated New York City has never been conveyed as being this empty. "Mosquito" is Chase's wisely chosen moment to act as percussionist caveman, while O assumes her "normal" state of embodying a glamorous cavewoman. Brace yourself as O screeches "Mosquito land on your neck/ Mosquito drink whatever's left/ He'll suck your blood…" Zinner compliments O during a semi-psychedelic chorus.
With a return to form and nature as YYYs know it best, "Area 52" feels like a b-side pulled straight from the Fever to Tell archives. It's the album's heaviest and most familiar version of the band, swirling sirens and Zinner's signature riffing and all. Dr. Octagon a.k.a Kool Keith offers a spooky accompaniment on "Buried Alive"; a bizarre mashing of lighthearted industrial elements with horror themed rhyming infused. Mosquito closes with the optimistic "Wedding Song". O exclaims with great confidence over bass and piano arrangements "In flames I sleep soundly/ With angels around me/ I lay at your feet/ You're the breath that I breathe". To avid listeners, to think of a relation between "Wedding Song" and "Little Shadow", the closing track from It's Blitz, isn't entirely farfetched. Given that these two songs are similar in sound, they could be very similar in theory as well; a theory that says something to the effect of "Sure, we'll wait four more years for a new record, but we won't know what to expect even slightly the next time around."
Mosquito is a brave move in several ways. It's a composite work of vague familiarities that YYYs are known for, but for the most part, it's an album made of research. There are hints of roots reggae, and tribal musings, while experimenting with industrial elements, gospel vocals, and strategic looping of ambient sounds. And needless to say, after one listen, never has a YYYs album effectively utilized a bass guitar in the manner that it does here. Though dirty at some moments, and pristinely clean at others, Mosquito has the potential to be a different type of dance record that still makes you recall "Zero" and "Heads Will Role". YYYs remain small in numbers, while their pool of resources and appreciation is limitless.