NEIU's problematic elevators: a ride to nowhere
People use the elevators every day at NEIU to get to their classes, jobs or study groups. On Feb. 11 at 8:05 p.m, an elevator in Bernard Brommel Hall (BBH) building on NEIU's main campus short-circuited due to a burnt transformer behind the north elevator's room, smelling of smoke and setting off the fire alarm. The incident happened at BBH while it being occupied by students, professors and staff members. The Chicago Fire Department arrived at the scene and determined there wasn't any fire or injuries.
According to Director of Strategic Communications, Mike Hines, the university has ordered a new motor to put the elevator back in service. Hines also confirmed that NEIU has an annual service contract for maintenance that includes weekly visits. "Our most recent inspection at all locations of NEIU took place in the fall of 2018 but we have not received yet the certificates to check them out," Hines said.
When asked about the reason behind the equipment shorting out, Hines said that there was no apparent reason because sometimes components just fail.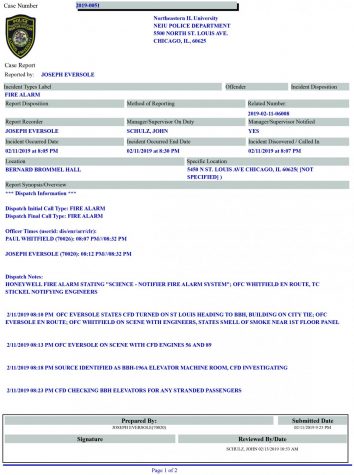 NEIU's Police Superintendent, John Escalante, believes that this kind of problem happens dozens of times in elevators across the city. "I mean it's just either electrical or mechanical and it's just like anything else — like your car burning out at times. Occasionally, you are going to get a transformer that burns out," Escalante said.
The certificates are posted in the elevators and according to the university, they're inspected at least once every 12 months by the Chicago Department of Buildings. An issue the university has is waiting to receive the certificates; however, while documenting all of NEIU's elevator certificates, one was found in the Jerome M. Sachs Administration Building that had two certificates: one stating it was last serviced in 2001 and the other stating it last serviced in 2010. This elevator in particular wasn't working on the day the certificate was checked. Hines said that the university is waiting for the new certificates and that "the delay is not uncommon."
Another frequent problem of NEIU's elevators are people getting stuck, especially in the Ronald Williams Library elevators, Escalante confirmed. On Nov. 1 2019, according to the NEIU police blotter, several students were stuck but were released before officers arrived. It also happened on Nov. 12 at the Nest, where a girl was trapped inside and needed the staff's help to get out.
"Don't panic if you get stuck in the elevator because occasionally it happens, although it's not an everyday occurance," Escalante said.
He also stated that people should use the emergency phone located in the elevator and if that is not working, call the NEIU police at (773) 442-4100 or use their mobile app 911 Shield.
The Independent attempted to interview Anderson Elevator, the company that services the NEIU's main campus each week to perform elevator maintenance, but weren't able for comment at time of print.