The Bears Falling Out of Lovie
Greg Adler
January 25, 2013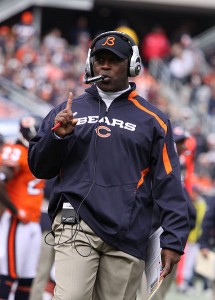 Ahhhhhh the new year, a time to reflect on the things that need to change in order to live better, lose a few pounds, and make positive changes. They say the key for sticking to a resolution, or at the very least breaking even with a goal, is to have a set plan in place. Apparently, management of the Chicago Bears are taking a more "let's throw caution to the wind and hope we land on our feet" approach. After nine seasons, the Bears have decided to kick head coach Lovie Smith out of the den and into the cold. The team will no longer be guided by a poised and collected coach who very rarely got fired up. Perhaps that's the reason that Smith got cooled down.
Smith has spent nine seasons as the head coach of the Bears, but after turning a 7-1 season into a 10-6 waste of a season, General Manager Phil Emery's heart couldn't bear it anymore, hence the dismissal. Granted, this season did not turn out the way many of fans thought it would several months ago.
Smith has had some positive impacts on the Bears during his tenure. He brought us back to back in 2005 and 2006 respectively, and he led the Bears to Super Bowl XLI, even though they couldn't manage to maul the Colts for a victory. Additionally, it should be stressed that Smith really helped the Bears reclaim their title as "Monsters of the Midway" by having one of the most formidable defenses in the league, which led the NFL this season with 44 takeaways. Smith, having come from a defensive background by working with the St. Louis Rams as their defensive coordinator, had a constant struggle with forming an offense that could pull as much weight as the Bears defense. By juggling four offensive coordinators; Terry Shea, Ron Turner, Mike Martz, and Mike Tice, Smith forming an offense that could have any sort of consistency was near impossible.
Smith won't be the only NFL coach dusting off the old resume; it seems other coaches faced the same fate as a result of Black Monday. The Arizona Cardinals clipped the wings of head coach Ken Whisenhunt and general manager Rod Graves. Eagles head coach Andy Reid cracked an egg with a pink slip stuffed inside for his team's not-so-steady flight this past season. Romeo Crennel, head coach of the Chiefs, won't be in Kansas anymore as he has been asked to follow the other brick road, and the Buffalo Bills gave head coach Chan Gailey the boot. Several teams decided to really clean house and hand out combo-deal pink slips to both head coach and general manager. Both Pat Shurmur and Tom Heckert of the Cleveland Browns got the short end of the stick. It was no shock when the Chargers asked head coach Norv Turner and GM A.J. smith to unplug and find somewhere else to get their juice.
Of course, there were some teams that found their issues weren't with the coaching staff but rather the management. New York Jets GM Mike Tannenbaum was permanently grounded while Jacksonville Jaguars GM Gene Smith lost his spots for good. All puns and clever plays on words aside, the NFL has really shaken things up and has been left in a frenzy of who's going to coach and who has retired permanently.
Taking a look at the uncertain future of that lies in front of the Bears, the speculation and fantasy football fans have begun providing their own tips for the Bears better coaching resolution. The most memorable of which was an internet based meme showing a picture of none other than Mike "Da Coach" Ditka, the quote below the photo reading "I'M AVAILABLE." Another poked fun at the lack of Super Bowl championships stating that the Bears should consider former Bulls head coach Phil Jackson. Instead, the Bears chose a rather unconventional route when they recently hired Marc Trestman as their new head coach. Trestman is certainly known for his keen offensive minded strategies, but will he be able to control the Monsters of the Midway? Only time will tell.