Votes have been tallied and results are in: 2018 Student Government Elections
Out of the total 8,051 student enrolled for the spring 2018 semester, 302 students went online to vote in the student government association (SGA) election. The votes have been counted and the results for the 2018 SGA election are in.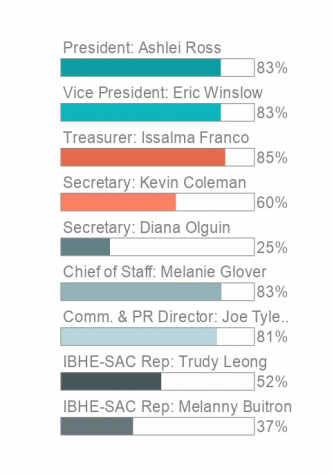 The executive board will be the following: President, Ashlei Ross; Vice President, Eric Winslow; Treasurer, Issalma Franco; Secretary, Kevin Coleman; Chief of Staff, Melanie Glover; Communication and Public Relations Director, Joe Tyler Gerber; Illinois Board of Higher Education – Student Advisory Committee (IBHE-SAC), Trudy Leong; and Student Trustee, Elena Molloy.
SGA's purpose is to "lead with integrity, embracing our diversity to promote a cohesive and unified student body." NEIU's SGA is composed of the Council of Clubs (COC), senate, justices and executive board.
The COC Representatives will be Brandon Blade, Jariana Robinson, John Rayburn with 13 more to be appointed.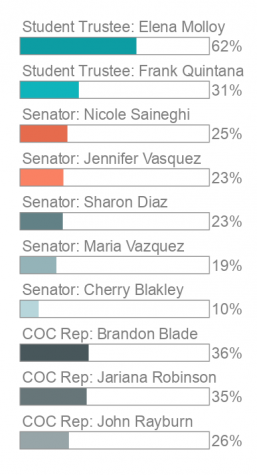 The COC is composed of 16 members and advocates for the creating and funding of campus organizations.  Members serve on the promotions and appointments committee, on the charter rules and regulation committee. They have the power to ratify, reject, and revoke university charters and organizations, and allocate appropriate money to university charters and organizations.
The senators will be Nicole Saineghi, Jennifer Vazquez, Sharon Diaz, Cherry Blakley with 11 more to be appointed
The senate is composed of 16 members. They advocate on behalf of the student body and serve on the student life committee and the academic affairs committee. They have the power to create and pass (SGA) legislation, determine and provide rules and procedures. The Senate also can fire and expel a member of SGA, enact, amend and repeal the SGA bylaws and ratify SGA elections within 30 days of the election.
They also can initiate a referendum, override the SGA president's veto, approve appointments, create positions within SGA and more.
The justices are composed of five members: chief justice, associate justice and three justices are appointed by the SGA president with senate approval. They have the power to hold all SGA members or members associated directly with SGA accountable. If found to be unconstitutional or in violation of the SGA bylaws or acts, the justices can declare the person in question "invalid."
Those COC, justices and senate are governed by the Executive board, which consists of the president, vice president, secretary, treasurer, IBHE-SAC representative and the student trustee.