NEIU professors publish an anthology about black female educators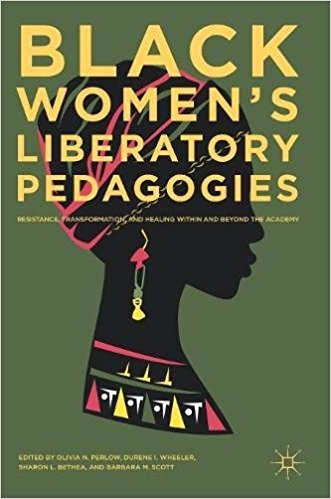 Four professors discussed their recently published book that led to the tales of hardship and perseverance of black female educators.
Professors Sharon Bethea, Olivia Perlow, BarBara Scott and Durene Wheeler held a panel about their anthology "Black Women's Liberatory Pedagogies: Resistance, Transformation, and Healing Within and the Beyond the Academy" in the Golden Eagles room on Feb. 27.
The interdisciplinary anthology "sheds light on the frameworks and lived experiences of black women educators."
Contributors for this anthology submitted works from an array of academic disciplines and learning environments, portraying black women faculty's classroom experiences. Their work also showcased their pedagogical approaches both inside and outside of the higher education classroom that has fostered transformative teaching-learning environments.
Editors Bethea, Perlow, Scott, Wheeler and contributors view instruction and learning as a "political endeavor aimed at changing the way we think about teaching, learning, and praxis."
They also provided insight into their own experiences, each writing their own chapter or contribution to the book.
Widely-known activist and published author Loretta Ross also contributed to the book. Ross is also the co-founder and the National Coordinator of the SisterSong Women of Color Reproductive Justice Collective.
Because the book was based on personal experiences, the professors ran into some challenges before publishing the anthology, like getting other educators to write a chapter or piece in it.
"It was very difficult for people to put their trust in us, to put their work in our volume," Perlow said. "We were very green in the publishing business. We reached out to people we knew like colleagues to ask them if they knew anybody."
"Someone actually told me that 'you'll never get that published,' so it helped when we got a contract," Bethea said. "It was hard to trust people you don't know. But we were very clear about what we were writing and what our subject matter was about."
"It was difficult to get these black women to write about their brilliance because we have been taught to put others before ourselves and be humble," said Perlow, "We found that these women, as well as ourselves, had a lot of insecurities regarding our own writing. (Those insecurities) got in the way of us producing what we are capable of producing."
"Black women have such a hard time, especially in academics, talking outside the traditional canon," Scott said. "Some people dropped off because they just couldn't do it or didn't want to do it. Really good pieces could have been included if they had drawn themselves out onto the paper."
The professors each read aloud a piece from a chapter from their anthology. Bethea's chapter included a personal experience she had when she went on her first trip to Africa, and Perlow talked about her frustrations with the administration.
"By cultivating mutually empowering relationships with many of the black women in this volume we engage in the practice of radical black female subjectivity," Wheeler read. "Guided by the spirits of our ancestors and foremothers, we invoke the bonds the stretch across time and space. We were able to discover and reclaim our collective power as black women."
The new anthology can be bought at local bookstores and Amazon.