NBA 2K13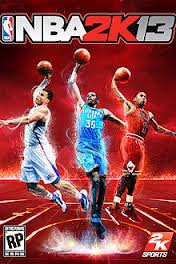 [post-date]  –
4 Stars
The NBA season is a fourth of the way through. Chicago fans are missing Derek Rose, Miami fans are waiting in the lane for the Miami Heat to win the NBA Finals again, and others want to see how Kobe Bryant and Dwight Howard will play together.
There's no need to wait any longer. NBA 2K13 has all of this and more. Features include having the player build their own legacy and see if they can be another Michael Jordan, Scottie Pippen, or any superstar they desire.
Gameplay has improved, the career mode is better than last year, the soundtrack is awesome, and the player can even play tracks without having played a single game. They also have the empirical question of which team would dominate, the USA Dream Team of 1992 or the 2012 squad.
Another good thing about this is when the player is in Association Mode, the player can choose if there will be weekly practices for the team and if so, the player decides what the team should work on. Within Association Mode is Developmental Mode. Before every month the player can pick a player from the association team (i.e. Lebron James' Miami Heat was the chosen dynasty team). They can choose LeBron James to do some developmental work in rebounding. If LeBron James does "around the world," a rebounding exercise, and knocks out all of his teammates, he gets offensive and defensive rebounding points toward his legacy and also gains vertical, which helps James get more rebounds.
The downfall of this game is in Career Mode. When the player wants to be picked No. 1 overall in the draft, they most likely won't be due to the developers of this game having the actual 2012 draftees in front of the player. The player really has to have a real solid game when the Elite team meets the stars team in New York at Madison Square Garden. That's where career mode begins. After the career game, the next stage is how the player relates to the general managers that visit the player and ask them some questions. How the player answers for their character in the game is how they will be drafted. The player can answer questions cocky or straightforward.
Besides the Career Mode, the game is well put together. Association is the best mode to play, including online. Possibly next year the creator and the director of this game can improve Career Mode.