Review: Hot Steel and Cool Ukulele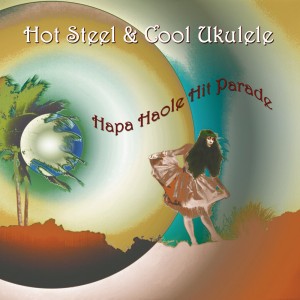 3 stars
Beat Chicago's icy winter by chilling with Erich Sylvester and the Hapa Haole Hit Parade's album, Hot Steel and Cool Ukulele. The entire album instantly brings to mind warm Hawaiian summer days, the rustle of hula grass skirts, and rum-filled piña coladas on the beach. Elvis would have loved this album, because it plays up the Hollywood fantasy of Hawaii, a sexy place of indulgence and delicious relaxation that made it one of his favorite nonexistent places in the world.
The songs feature Sylvester on the ukulele and one of the following musicians, Ken Emerson, Sean Allen, Don McClellan, or Brad Bechtel on Hawaiian steel jazz guitar. Each song follows a formula, with Sylvester singing and enthusiastically playing the ukulele, and a steel guitar accompanying, often with the signature sliding chords of Hawaiian slack-key guitar playing. Some songs recall ragtime-style jazz music and feature skillful improvisational slides along the chords. The melodies and lyrics differ greatly, and often describe Hawaiian dilemmas with a playful tongue-in-cheek attitude.
Hapa Haole is a type of mixed music using Hawaiian melodies but English lyrics. This stems from the common Hawaiian pidgin term, "Hapa Haole," which means half Hawaiian and half White in ancestry.
The Hapa Haole Hit Parade is an easy-going album with universal appeal that doesn't require a deep commitment of attention to enjoy. Enjoy a little taste of eclectic Hawaii by putting it on in the background as you work and you will find yourself floating away on the Hula Blues as "you wiggle and you giggle" along to the song.