"Crisis" in Catalonia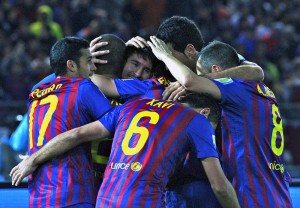 In sports, legacy is often associated with greatness. Whether it's Phil Jackson bringing the triangle offense to the NBA or Joe DiMaggio redefining what a hitting-streak is, the true legends of these games are the ones who profoundly change them. Mediocrity is something reserved for bar-talk, rather than history books. Greatness is embedded in the fabric of the game.
In terms of building a legacy, FC Barcelona is perhaps the greatest team in sports today. Many pundits believe them to be the best soccer team ever assembled. They've won twelve trophies in the past five seasons. However, it's the manner in which they win—with beauty and dominance—that makes them truly special. There is no "grinding out" wins, just pure attacking soccer built around possession. They call it "tiki-taka." It is ideological and precise, but most of all, it's entertaining.
While the origins of their particular style of soccer go far back, this incarnation, featuring the likes of Lionel Messi, Andres Iniesta, and Xavi Hernandez—the earth, wind, and fire of Barcelona's attacking storm—took shape when former manager and player Pep Guardiola took over the first-team in 2008. In addition to the style of play, his infusion of homegrown players into the squad is an admired and often imitated practice. Whether at senior international or under-8 youth level, the phrase "play like Barcelona" is commonplace around the world.
However, Barcelona has shown uncharacteristic weakness in recent weeks. In the span of a fortnight, they encountered three major defeats at the hands of teams they have spent the better part of five seasons dominating in domestic and European competitions. The first was a 2-0 loss in Italy to European giants AC Milan in the first-leg of the Champions League Round of 16. They were then beaten twice by rivals Real Madrid: first, a 3-1 away loss in the Copa del Rey semifinals, followed by a 2-1 home league defeat. These kinds of breakdowns rarely ever happen to Barcelona. A well-organized unit implementing a stingy defensive game plan can occasionally come out victorious with a bit of luck (as previously shown by Inter Milan in 2010, and Chelsea in 2012), but this is the first time since Guardiola first took over the squad five years ago that the team's performance visibly suffered. Terrible defending and a lack of creativity highlighted vulnerability in Barcelona's system.
Setbacks like these can result in a potentially damaging revision for a sporting legacy: the notion of being found out. The idea that, while an athlete or team may be great for a time, when the rest of the game catches up to them, they become just like everyone else. Sometimes defenses just figure things out.
The truth is that Barcelona overturned that first-leg defeat to AC Milan in epic fashion by thrashing them 4-0 at home, solidifying their spot in the quarterfinals. They also currently lead Real Madrid by thirteen points in La Liga with ten games to go, while Lionel Messi has scored 55 goals in 43 games in all competitions this season. Either recent criticism has rejuvenated this team, or rumors of their downfall were severely premature. An April 2nd Champions League date with Paris Saint-Germain awaits Barcelona on their quest for a third European Cup in five years, along with a case for immortality.