Images Worth a Thousand Words
Review: Jewish Chicago: A pictorial history
4 of out 5 Stars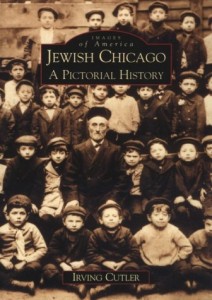 Sara Lee, Eli's Cheesecake, and Crate and Barrel all began their careers in Chicago. But that's not all they have in common. These prominent companies were created by Jewish entrepreneurs and their legacies are documented in a book by Irving Cutler.
Interested in Jewish History? Calling all history majors! Jewish Chicago A Pictorial History compiled by Irving Cutler is the book for you. It was published in 2000 and subsequently reprinted twice as part of the Images of America series under Arcadia publishing. Baby Boomers can flip through this book and reminisce as they share memories with offspring and grandchildren, regardless of ancestry. It offers a different context to learn about Jewish history without being bombarded with dates, facts, people and events. In fact, it could even accompany a lesson of Jewish history, including the influence of Jewish people in Chicago, ranging from The Drexel home for the aged to the aerial shot of University of Illinois at Chicago (UIC), when it was heavily attended by Jewish people.
The images, 230 in all, come from a range of sources and archives allowing for a variety of vantage points of life from 1841 into the early years of the 20th century. The book is split into nine sections, and each section offers up some interesting facts accompanied by impeccably restored and preserved black and white images. Each picture tells a story, often showing images of well-known landmarks such as Marshall, Von Steuben, and Senn High School located in Chicago's north and south side neighborhoods, and relating it to Jewish history. It may be captivating for those to live in that area to see images of how the school looked back in that era. The Aragon Ballroom, located on Broadway and Lawrence, still remains, and although the use of it has changed, the "Aragon" sign still remains as photographed in the book. It is really cool to flip through and recognize a building or read the location of where it used to be, only to realize it's a strip mall or apartment.
Some influential Jewish people and Chicago natives are featured in the section dedicated to the topic. Among them are Phillip Lutznick, Bertrand Goldberg and Sidney Yates. According to the book, Lutznick was a prominent lawyer and served in the federal government under several presidents. Some of the real estate he maintained includes Park Forest and Water Tower Place. Goldberg, a prominent architect who died in 1997, designed the Marina Towers. It is now used as a residential and commercial building. Between 1949 and 1999, Yates represented Chicago in the U.S. House of Representatives. Until 2012, he was the oldest serving representative and was a huge advocate for the Holocaust Museum in Washington.
A trip to Maxwell Street is inevitable for any true Chicagoan. That section is particularly eye-catching and intriguing, considering since then the entire community has uprooted and retained the name. The book hasn't been reprinted since 2002, its time for an update to include the "new" Maxwell Street, among other things. The book revealed generally common knowledge for Chicago natives—Maxwell Street was torn down. However, most natives are unaware that it was used to expand UIC in 1944. Most images created a stunning, linear story, whereas others just dangled. For those interested in reading the book, it can be purchased on Amazon and found in your local public library. For more information on this book and other books like this one, visit www.arcadiapublishing.com.