Grad Student Settles Lawsuit against NEIU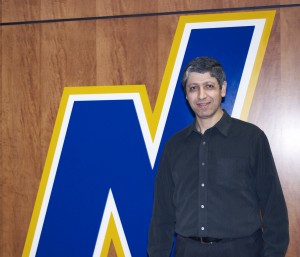 Ghaleb Azroui is an immigrant who came to the United States in 1991 after the war with Iraq had impacted his native Jordan. He enrolled in classes in 1993 at Northeastern Illinois University (NEIU) to obtain a Bachelor's degree in accounting, a goal he achieved in 2001. He later returned in 2007 to work towards a Master's degree in business. During that time, Ghaleb also became a plaintiff in one of Northeastern Illinois University's (NEIU) more recent civil cases, which included count of false arrest, malicious prosecution and conspiracy.
According to Azroui, he returned to the NEIU campus to inquire and register for master level courses on Sept. 25, 2007. Azroui was arrested, according to him, due to a ban barring him from the NEIU campus. NEIU prosecuted Azroui and on Nov. 8, 2007 the case against him was terminated "in a manner indicating that the Plaintiff was innocent," according to court documents.
On Feb. 24, 2009, Azroui returned to campus to speak with Joan Leafman, in regards to possible litigation against NEIU regarding prejudice. Unbeknownst to him, NEIU had not lifted the ban after his previous case was dropped. According to Azroui NEIU police again arrested Azroui for illegal trespassing on state property at the entrance of Lech Walesa Hall, on Bryn Mawr Avenue. NEIU once again prosecuted Azroui and "following a bench trial in Cook County Court on April 23, 2009, Azroui was found not guilty." according to court documents.
"They were spreading rumors about me" said when Azroui when he spoke to The Independent. Azroui expressed concerns that a group of professors at NEIU had an agenda to keep him from obtaining any further services from the school and that these individuals implemented a campus-wide ban barring him from the school. Azroui named several NEIU staff members, including retired professor Allen Shub, College of Business Management's Chong-Tong Chen, finance professor Nauzer Balsara, and the late Dean Dr. Michael Kelly. Azroui disclosed having previous disputes with some of these professors over academic issues in 1998.
These events lead Azroui to bring a civil case against NEIU personnel. Two other attempts by Azroui to sue the school occurred before the most recent case in district court. After filing both on June 22, 2009 and Feb. 25, 2010, the circuit court dismissed the cases on grounds that the claims were barred by sovereign immunity on June 29, 2010. Sovereign immunity protects governments and their subdivisions from being sued without their consent.
The most recent legal complaint was filed in the United States District Court for the Northern District of Illinois Eastern Division on Aug. 31, 2010, almost three years after the initial arrest. The suit named the professors previously mentioned as well as then-legal counselor Jeffery Brown, then-Provost Lawrence Frank, Police Chief James Lyon Jr., Lt. Paul Krusynski, Lt. David Declet and NEIU President Sharon Hahs.
In that initial filed complaint, Azroui asserts his claims against the names mentioned. "I have evidences and proof that [the] defendants violated the law and they [were] racist [in] all possible way[s] against me." Further in the document, the claimed injuries are read as "Psychological injury, emotional harm, and mental anguish."
In a statement released by NEIU on March 1, 2013, the situation was summarized as resulting from Azroui alleging that "the University denied him admission into the M.B.A. program because of an unfavorable grade he received in 1995 and that the University Police falsely arrested him. "
In the complaint submitted by Azroui's attorney to the court, Judge John W. Darrah saw twelve allegations presented by Azroui. Counts I and II were in regards to "false arrest/unlawful detainment" and "malicious prosecution" in regards to Azroui's 2007 arrest. Counts III and IV were the same, only in regards to the 2009 arrest.
Count V referred to a conspiracy to deprive him of rights and privileges. It asserted that the "defendants were acting in concert to cause injury." Count VI asserted a neglect to prevent conspiracy, naming President Hahs, the late Dean Kelly, Brown, and Lyons among others in higher-ranking positions. Counts VII and VIII were claims of false arrest under Illinois State law for both the 2007 and 2009 arrests respectively. Counts IX and X both claim malicious prosecution under Illinois State Law, again 2007 and 2009 respectively.
Count XI alleged conspiracy under Illinois State law. Count XII alleged the intentional infliction of emotional distress in violation of Illinois state law. In Aug. 30, 2011, after a motion to dismiss by the defendants, all counts regarding the 2007 arrest were dismissed in their entirety (I, II, IV VII, and IX) Due to the two-year statute of limitations ending. Counts V and XI were only partially dismissed. Count VI was dismissed due to doctrine of respondent superior not applying in this case unless an individual caused direct harm to the plaintiff.
However with six counts still remaining, in December of 2012 both Azroui and the listed NEIU defendants agreed to settle for $75,000, an amount that has been paid in full according to a recent interview with NEIU university counsel, Melissa Reardon Henry. The settlement explicitly denies any wrong doing on the part of the defendants and both parties agreed to release one another from any and all liability stemming from the incidents in question. Aside from which, Azroui and the defendants listed in the suit are not to make any contact with each other. Any ban against Azroui that was in place was also lifted, giving him access to the campus and its services.
According to Henry, "The University expunged his records of arrest and took measures to have his records expunged by the Illinois State Police." "There is no impediment to [Azroui] coming to Northeastern and applying for the MBA program or registering for courses…with the proviso that he can't take classes from any of the folks that he has sued," she continued.
Henry reiterated the school's priority in protecting its students' rights, saying "The University is committed to protecting student rights and to providing an educational environment that is free from discrimination. The University's internal resources to ensure that it keeps this commitment."
While the university does have one employee lawsuit filed against it (Dr. Capeheart vs Hahs et. al), the lawsuit does not involved a charge of discrimination. The litigation regarding Dr. Boyle is still pending. There are currently no student lawsuits, or charges of discrimination against NEIU from students or faculty.
In an official statement to The Independent, NEIU summarized its position on student rights and discrimination by saying that "the University is committed to protecting student rights and to providing an educational environment that is free from discrimination. The University's internal resources ensure that it keeps this commitment. The Office of Student Rights and Responsibilities and the University's Affirmative Action Officer are available for students who believe that their rights have been violated or that they have been subjected to discrimination. The success of the University's commitment to respecting the rights of its students and employees is reflected in the fact that there are no charges of discrimination pending against it in any forum from either students, faculty or staff."
If any student feels violated, they can speak with Director Sharron Evans in the Students' Rights Responsibilities office. Regarding discrimination on the basis of any federally protected quality, such as national origin, race, color, religion, disability, sex, and familial status, students can speak to the university's Affirmative Action officer, Roberto Sanabria, in the University Outreach and Equal Employment office. Externally, students may contact the Department of Education's Office for Civil Rights to take action at a federal level.
The University Outreach and Equal Employment office is also open to NEIU employees seeking assistance with discrimination matters. Additionally, NEIU employees can also seek assistance through various levels of state and federal offices, including the Commission on Human Relations for the City of Chicago, the Commission on Human Relations for Cook County, Illinois Department of Human Rights, and the federal Equal Employment Opportunity Commission.