Review: family time in "Visiting Edna"
Hang on for a minute...we're trying to find some more stories you might like.
Associating terminal illness with simple humor is a risqué move in entertainment, yet comedy and tragedy blend well in The Steppenwolf Theatre's production of "Visiting Edna."
Written by David Rabe and directed by Anna D. Shapiro, the world premiere of "Visiting Edna" opened on Sept. 25, starring Debra Monk as Edna and Ian Barford as Edna's son, Andrew. Tim Hopper, Sally Murphy and Michael Rabe co-star.
"Visiting Edna" takes place in Edna's home in Iowa. The themes of loss, relationship and distraction are emphasized in the decisions that Edna and Andrew make during the play. Barford's acting as Andrew genuinely displays his emotion and approach to watching television, pretending to golf and drink with his friends. Monk delivers her dialogue to each cast member with the appropriate sass and attitude. She is not afraid to speak her mind and shows through her words and gestures that Edna is not any old-timer, but rather a woman tired of the losses and pain she has faced.
Rabe, Hopper and Murphy play personified forms of the angel of death, cancer and television, respectively. Both Cancer (Hopper) and Television (Murphy) approach Edna and Andrew in such perfectly irritating ways that their expressions respond with disdain. Cancer and television play major roles in the theme of distraction, as they both work as a bridge between fantasy and reality. The invasive role of television is fleshed out in the play's dialogue, with one of the best quotes coming from Andrew's embittered argument with the television.
"You're an asshole!" Andrew yells at the television. "You're an asshole!" The television set responds.
Moments like this show the conflict between distraction and reality. Struggle is another common theme for each of the characters. Edna is unhappy with her rivalry with her sister and Andrew is desperately coping with his mother's terminal illness. The complex role of television in both of their lives and the parasitic nature of cancer as a physical and emotional disease amplify the characters and their actions.
David Rabe's writing captures the fear and uncertainty of living with a terminal disease and shows cancer as a presence without remorse. It is a haunting reminder of the loss of time and happiness. The bitterly honest interactions between Edna and Cancer throughout the play contrast with the mostly endearing relationship of her and Andrew. It brought me to tears.
Another amazing quality from the theatrical performance was the realistic atmosphere of Steppenwolf's production. With the use of a skybox (an elevated set piece that has clouds and sky on the inside and the exterior of the building on the outside,) water from Lake Michigan and subtle wind effects, it truly depicted the contrast  between the sunny optimistic mornings and the gloomy, ominous, stormy nights. To add to the gloominess, the use of ambient music creates a chilling sensation, especially when Cancer, the Angel of Death and sorrow enter the scene.
Carefully constructed by David Rabe, Steppenwolf's production of "Visiting Edna" treads the line of minimalist drama and shows what a small cast and a single location set is capable of in the world of theatre.

About the Writer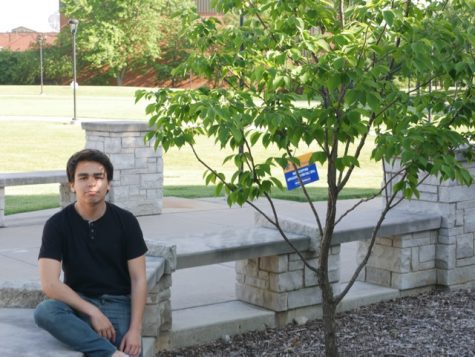 Pablo Medina, Editor