The race to the White House: Clinton
A biography on Democratic candidate Hillary Rodham Clinton.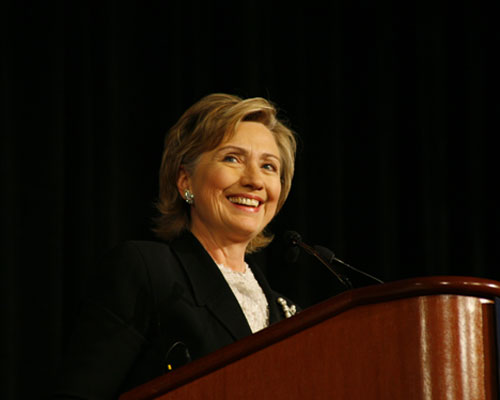 In this election, Hillary Clinton will try to do something that no woman has done before and that is become the president of the United States.
Regardless of which side you may be on, it is important to know her accomplishments.
Early years:
Clinton was born on Oct. 26, 1947 in Chicago, Illinois. She grew up in Park Ridge, Illinois where she was a straight-A student throughout school.
Betsy Eblin, Clinton's best friend in grade school said in a Frontline interview, "I was the new girl in class and someone told me that I was very lucky to be sitting next to Hillary Rodham because she was captain of the crossing guard. I knew then that she was destined for great things."
Clinton graduated from Wellesley College in 1969. She then attended Yale Law, where she met Bill Clinton and graduated in 1973. Although the couple met at Yale, they would take separate paths after their graduation from law school.
Clinton enrolled Yale Child Study Center, where she took courses on children and medicine and completed one post-graduate year of study.  
In 1974, Clinton moved to Arkansas and the couple got married on Oct. 11, 1975 in Fayetteville, Arkansas.
Years as first lady and subsequent political career:
Her husband appointed her to lead the President's Task Force on National Health Care Reform in 1993. This was the first time a first lady took on such a political job.
She was elected to the U.S. Senate from the state of New York in 2001. During her time as a senator, she served on several committees including the committee for Armed Services.
Clinton announced her candidacy for the presidency in 2007 and was widely viewed as the frontrunner for the Democratic nomination. She would concede to Barack Obama but walked away with receiving more votes than any other woman in history.
President Obama appointed Clinton as the 67th Secretary of the State in 2009.
According to a report published by The New York Times on March 2, 2015, Clinton "exclusively used a personal email account to conduct government business as secretary of state" and "may have violated federal requirements that officials' correspondence be retained as part of the agency's record."  
According to the same report, Clinton did not have a government email address during her four-year tenure and her aides did not take actions to preserve her personal emails on department servers as required by the Federal Records Act.  
Letters and emails written and received by federal officials — such as the secretary of state — are considered government records and retained.
According to an updated New York Times report published on Sept. 2, 2016, the retainment of her emails came two days after the attacks in Benghazi, Libya in which all documents and Clinton's response to the attacks came under investigation.
Aspirations for presidency:
The final Super Tuesday primary was on June 7 and Clinton delivered a victory speech in Brooklyn, New York, approximately eight years to the day she conceded her loss to President Barack Obama.