To ComEd or Not to ComEd?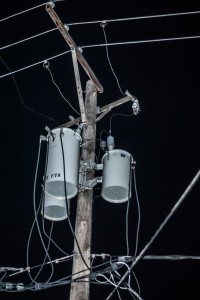 Energy companies Integrys and Spark Energy have several things in common. Sales phone calls, frequent unsolicited letters and salespersons coming around at all hours of the day. Chicagoans have likely experienced one or more of the aggressive tactics that energy companies are using to get customers to switch services. These intermediate companies promise lower electric bills and the same great service, but this may not be the exact truth.
According to a letter received from the City of Chicago, "On Nov. 6, Chicago voters approved a referendum authorizing the City to seek lower electricity rates for eligible residential and mall business customers."
The city of Chicago has a new electricity aggregation program in which ComEd customers have the option to enroll in.  The city of Chicago has decided to go with Integrys Energy Company.  According to a letter sent out to Chicago residents, "…the City selected Integrys Energy Services, Inc to supply electricity to the City's Electric Aggregation Program based on their price, quality of customer service, and ability to source from non-coal resources."
The idea of this program is that electric customers receive a better electric rate with an independent company and ComEd will maintain billing, maintain the electric system and restore service after storms and power outages.
The ComEd effective rate at this time is 8.819 c/kWh. Integrys rate, while technically lower at 5.424 c/kWh, is only fixed through May 2014. At the very bottom of the letter received from the City of Chicago, in very tiny print, buried in a long paragraph, it states "This is not a guaranteed savings program as compared with future ComEd rates."
In the same paragraph, "While Integrys arrived at the calculated Delivery charges based upon information collected from sources believed to be reliable and correct." Charges from Integrys do not take into account many things ComEd's charges do take into account. Even though the electricity rate may be less expensive initially, the associated account charges may outweigh any savings the customer may believe they are receiving.
The letter also states that there is no early termination fee, but it does not say when that early termination period ends. After reading all the information in the letters and the terms and conditions, there was still no clear mention of when the early termination period ended and what termination charge would be issued.
Consumers are encouraged to read the fine print and do the math homework before jumping into bed with a new company just for a little savings on the next electric bill. In a letter of frequently asked questions about the energy program, it states that Integrys Energy has aggregation programs in 44 other communities in Illinois.  If one wants more information on the Integrys program, visit their website at www.integrysenergy.com or call 1-888-802-2885.