Sierra Hull Performance Sells out at Recital Hall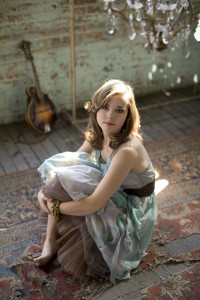 Big city crowd gathers for the small town sound of Sierra Hull. She was born and raised in Byrdstown, Tennessee on Sept. 27, 1991. Hull began playing the mandolin at the age of eight and soon began playing jam sessions with family members. By age 10 Sierra began attending bluegrass festivals and competing in talent shows. She eventually caught the attention of Rounder Records chief talent scout Ken Irwin and was mentored by Alison Krauss. Many of her fans consider Hull a younger version of her mentor.  Sierra Hull's music is spontaneous, with a mixture of traditional bluegrass, Americana, and folk. On May 5, 2012 Hull was awarded an honorary doctorate from the Berkley College of Music, her alma mater.
Hull is currently on tour promoting her latest album, "Daybreak." Many young musicians who release albums today are enamored with auto tune. Hull goes the traditional route, lyrics and acoustics. The instrumentals in "Chasing Skies" and "Bombshell," both showcase Sierra's superb mandolin playing skills. However, nothing tops "Daybreak" and "Best Buy." In these two tracks alone, Hull's main strengths are highlighted; her angelic vocals and youthful lyrics that reach across all age groups.
Hull opens her performance at Northeastern Illinois University's (NEIU) Recital Hall (the first stop of her year-long tour), with "Chasing Skies," an instrumental from her "Daybreak" album. Joining her is four of her band mates: Jacob Eller, bass; Justin Moses, fiddle; Jake Stargel, guitar; and Cory Walker, banjo. Backstage is the sound engineer, Caleb Gilbreath. "Chasin' Skies," her opening act, received the strongest applause by far from the sold-out crowd. Hull then wowed her younger crowd with "Pretend" from her 2008 album "Secrets." Her biggest showstopper had to be "I'll be Fine" from her new upcoming album (which is yet to be named). The song was followed by an encore of instrumentals. Hull's strong performance of her and her band mates, her engaging personality and her lasting appeal cements her place in the Bluegrass industry.