History repeats itself with athlete protests, social injustice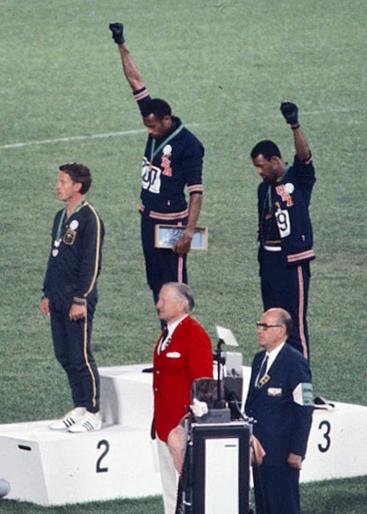 The relationship that sports and social issues have is natural. The two will always be intertwined because athletes have a moral obligation to use their platform to speak out on political and social issues.
Oscar Ramirez a senior at NEIU, said in a recent interview: "The players are human. The players are human, and we live in a representative democracy. Those humans are voters. They're citizens."
And history couldn't agree more.
There has been racial tension in sports ever since Jackie Robinson broke the color barrier in 1946. Athletes have used their platform to protest in the past like Olympians John Carlos and Tommie Smith gave the Black Power salute. Muhammad Ali refused military service citing his religious beliefs as well as opposition to the war. As recent as last year, NBA players wore shirts that read "I can't breathe' and "Don't Shoot" to protest police violence. Last July, WNBA players were fined for protesting the Black Lives Matter movement.
Recently, San Francisco 49ers quarterback Colin Kaepernick is protesting by kneeling instead of standing during the national anthem, citing oppression of black people.
His refusal to stand up for the flag and national anthem is not because he has a disdain for any branches of the military, it's because the American flag and national anthem are symbols of freedom in a country where people of color are being systematically
oppressed.
Black athletes aren't the only ones adopting Kaepernick's method of protest. Megan Rapinoe, a midfielder for the U.S.Women's National Team, took a knee during the national anthem while sporting the red, white and blue soccer kit.
She told ESPN in a recent interview: "We need to look at all the things the flag and the anthem represent and all things it means, and is it protecting everybody?"
Rapinoe has a history as an advocate for justice. She's been an avid supporter of LGBT rights, and was one of the players who was named in an equal-pay complaint filed against U.S. Soccer earlier this past summer.
Kaepernick has created a dialogue that forced  people to critically analyze everything about the national anthem: from the words in the song to the author, Francis Scott Key.
"(Francis Scott Key) owned slaves," Ramirez said "If you're a black person singing this anthem, you might think, 'wow, the author didn't have me in mind when he wrote
this.'"
Kaepernick and other professional athletes don't just have an obligation to speak on social issues, but a moral obligation to do so.
"When you have someone with such a massive audience, there's this call to do the right thing," said NEIU alumnus Dyamond Thompson.
Because of the massive audience and constant coverage, athletes should use their platform to speak out against prejudice and discrimination that manifests itself into the social issues that affect the people in this
country.
Since Kaepernick started his protest, "The Huffington Post" reported on Sept. 19 that at least 67 people have been killed by police.
The most recent victim was Terence Crutcher who was murdered by Tulsa, Okla. police officer Betty Shelby, when he was walking back to his car, unarmed, with his hands in the air.
Athletes will always speak out against social injustices as long as the groups they identify with are suffering from them.
Until oppressive forces are no longer at the front, Kaepernick and others athletes will continue to stand in solidarity against it.
Or kneel.