Review: Wonderful Town at the Goodman Theatre
Grace Yu, Campus Life Editor
September 28, 2016
Hang on for a minute...we're trying to find some more stories you might like.
The Goodman Theatre held its first College Night for the 2016-2017 season on Sept. 14 with their production of "Wonderful Town." The Goodman puts on one College Night per production.
The Goodman's staging of the classic American musical, directed by Mary Zimmermann, opened Sept. 10 and runs through Oct. 23. The book was written by Joseph A. Fields and Jerome Chodorov. Lyrics for the musical were written by Betty Comden and Adolph Green.
The musical consists of an amalgam of styles of song and dance (including a Brazilian conga and an Irish jig), styles whose common feature is the catchy, upbeat melodies that had the audience continuing to hum through intermission and beyond. With music composed by the great Leonard Bernstein, "Wonderful Town" tells the story of two Midwestern girls, sisters Ruth and Eileen Sherwood (the characters also happen to have Scottish and Swedish heritage, further evidence of the show's thoroughly American blending). Ruth, an aspiring writer, and Eileen, an aspiring actress, move to New York City from their hometown of Columbus, Ohio to chase their dreams and seek their fortunes.
The musical is of the quintessential screwball comedy variety. Featuring lots of physical comedy "Wonderful Town" exhibits a light, cheerful tone throughout its tale chronicling the struggles of two young women who move to the big city.
In presenting the two sisters as if as if contrasting light and dark, the show illustrates Ruth's lack of man-catching abilities utilizing the comic musical number, "One Hundred Easy Ways" (to lose a man, that is). Actor Bri Suda gives Ruth plenty of energy as well as charm that endears her "tough, independent woman" character to the audience. Eileen's troubles on the other hand mostly involve her inability to keep the boys away, and Lauren Molina's Eileen comes off rightly as effervescent but sweet.
The story of "Wonderful Town" never truly disappoints the audience, even in the regret and second-guessing of Ruth and Eileen in the musical number "Ohio," or in the cynicism towards young people chasing their big-city dreams in "What a Waste," performed by Ruth's love interest in the story, Robert Baxter (Karl Hamilton's magnificent singing talent lends much-appreciated gravitas to the role). The New York dreams so sincerely felt by the protagonists don't truly shatter, and the tears shed in the show are always, without exception, happy ones.
Dark, bumpy subway rides in the New York of "Wonderful Town" are just an inconvenience, a blip on an otherwise optimistic landscape. The set for the show, painted almost entirely in shades of pastel blues and pink-oranges, also featured almost cartoonish puffy clouds hung from above, while colorful and stylish period costume design allowed the actors to pop out of an already vibrant, cheery set. In this happy romance, an unlikely girl – the unlikely female romantic lead found in Ruth Sherwood (a proto-feminist woman entering the urban workforce in the 1950s) – and the good man who learns to cherish her  find their longings finally satisfied by the final drop of the curtain.
Based on short stories written by Ruth McKenney published in the book "My Sister Eileen" in 1938, "Wonderful Town" was made into a film starring Rosalind Russell in 1942 and had its first Broadway run in 1953.
The next College Night will be for the Goodman production of "The Magic Play" by Andrew Hinderaker, directed by Halena Kays, on Oct. 26. Chicago-area students experience professional theatre and a before-show Q&A with cast members for only $10 (pizza and drinks included!).
Cut lines
Pictures here: Bri Sudia (Ruth) and Lauren Molina (Eileen) Goodman Theatre's production of Wonderful Town Directed by Manilow Resident Director Mary Zimmerman runs now through October 16.

About the Writer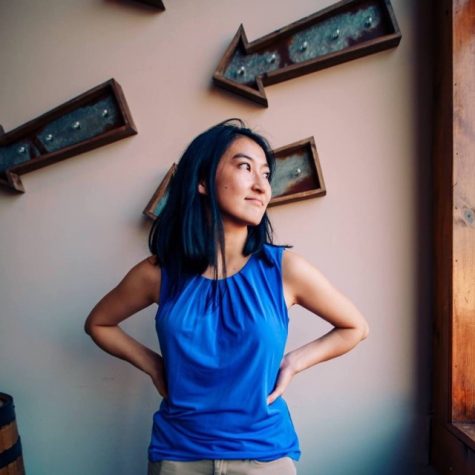 Grace Yu, Campus Life Editor
Grace Yu is a senior majoring in English and Philosophy. She will graduate in May 2020.