'Portable' exhibit moves to NEIU
NEIU is hosting its first art exhibition of the Fall semester on Aug. 22 in the Fine Arts Gallery, beginning with "Portable Museums and Other Kinds: Works by Jeffrey Abt." The artist talk will take place on Sept. 15 at 7:00 p.m. and there will be a reception the following day from 6-9 p.m.
Jeffrey Abt, an artist, writer and a professor in the James Pearson Duffy Department of Art and Art History at Wayne State University, is widely known across the U.S. for his artwork revolving around museums and the visual effects his artwork has on audiences.
Abt's work might be a different style, compared to Tyler Bohm, Chad Kouri, Rachelle Hill and Millicent Kennedy, the other artists who will be exhibiting their art in the fall, but this is also what will make the art gallery so diverse and unique, according to Heather Weber, director/curator of the NEIU Fine Arts gallery.
Having been exposed to art as a child also played a factor. Being taken by his parents to the local art museum in Kansas City at an early age, he was able to observe the beauty of art and eventually learned to appreciate it.
"I became interested in becoming an artist around the time I was in seventh or eighth grade," Abt said in an email interview. "My realization that I might be able to make this kind of work a full-time career came while I was in college. I started taking classes with art professors who were able to make a living by teaching and who were also able to continue producing work and exhibiting it widely."
Abt was able to follow in similar footsteps as his professors and traveled the U.S. and abroad for group and solo art exhibitions. Throughout his years of traveling, Abt was able to find inspiration for his work in the countries he visited. Particularly, in the Negev of southern Israel, the Sinai and areas along the Nile in Egypt.  
Weber shared this similar experience while growing up in Oxford, Ohio as a child.
"My father was an artist, so growing up I was able to see all of his work," Weber said.
Weber eventually moved to Chicago in order to receive her masters degree in art history. Before joining NEIU, she was the Chicago Gallery director of Northern Illinois University.
Although being known worldwide for books and famous paintings sounds nice, it requires plenty of hard work and commitment.
"Being successful as an artist requires stamina and determination, and the understanding that artistic accomplishment is based on about 1 percent inspiration and about 99 percent hard work," Abt said. "An excellent work ethic and discipline are indispensable."
Many seem to believe that their life goals and dreams are their destiny, but can they really be attained without failure and commitment?
When experiencing Abt's work for the first time there is a sense of perseverance and determination to try and understand the true meaning behind every detail in his paintings.  The very same feeling you get when trying to solve a mind-boggling puzzle but perhaps this might be done with a sole purpose. According to Abt, his art is designed to not only captivate his viewers for "contemplation," but also "heighten viewers' awareness of museums and galleries as transient places where works of art come and go."
This artwork is just the beginning of what's to come this fall semester. Make sure you're there to experience it all for yourself. The exhibit runs until Sept. 16.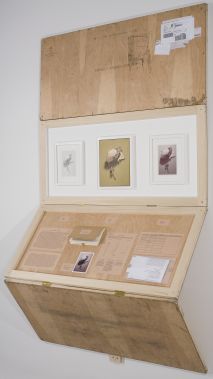 Jeffrey Abt