Illinois Congress Approves Student Trustee Bill
The NEIU board of trustees was to put to vote an amendment at their upcoming meeting that could change the role of future student trustees. But a bill that recently passed through both the Illinois Senate and House of Representatives put the discussion to an end.
"There will not be a matter in front of the board about the role of the student trustee," said NEIU President Sharon Hahs. "It has been withdrawn because there is a bill in the legislature instead."
Senate Bill 579, which was passed by the House on May 24, provides that "a student member (of the board of trustees) shall not be deemed to have a direct conflict of interest in and may vote on any item involving the employment or compensation of the president of the university or the election of officers."
The amendment proposed to alter the Board of Trustees' regulations, first discussed April 7, named all of the above topics as conflicts of interest—although the exact details could have changed through discussion before they would have been put to a vote.
The matter was withdrawn from the upcoming meeting after the bill passed through the House.
The senate bill, if signed into law by Gov. Bruce Rauner, would extend to all state universities.
Olivia Clark, a psychology major and criminology minor elected to succeed Pedro Nungaray as student trustee, said—before it was known the board had canceled the matter—she thought that if the board regulation was passed it would alter her future position with the board.
"Hopefully the votes fall in our favor because my power would be limited during my term," she said. "(The position) wouldn't be as meaningful."
Hahs said her only regret on the issue was that it was settled externally.
"The Senate may do anything it wishes, but I was saddened by it in that we didn't use our internal procedures to allow our own board and our students coming to public comment to sort through this," she said. "'It's great,' 'it's terrible,' 'it's partly okay,' 'and partly not,' 'what does a direct conflict of interest mean?' Those kind of things, I was disappointed we had the opportunity taken away from us to have our own debate without predicting outcome one way or another."
SGA President Nick Martinez, who was re-elected to that position in April, said he was pleased with the progress the bill had made through the state legislature.
"It panned out in a great way because it put the whole issue on the radar," Martinez said. "It's kind of like President Hahs shot herself in the foot because I've been saying for a long time that this is what's been going on, that this is the administration's plan to really kick students off and do all these things.
"I feel that the reason President Hahs (wanted the Board of Trustees amendment) to be there is because she honestly is very scared of student government," he continued. "She's seen that student government has been doing work and getting things done for the students and she doesn't want that to ever be able to affect her."
Hahs said she had not pushed the matter herself.
"My job as the president, if the board so directs me, is to provide the forum, the discussion—the language we might use," Hahs said "And it's actually in the board matter, that this is a discussion item, that it could be changed or not changed, voted upon but not until the next board meeting.
"So my job to serve the board and provide things doesn't mean that I agree with them. The presumption being that 'I want this and I'm going to do terrible things to get it.' And I didn't."
According to Martinez, Senate Bill 579 was driven through state legislature largely through the efforts of NEIU students and the SGA. Martinez was unable to comment on the exact nature of this involvement and the extent of his own involvement though he said he worked closely with two of the bill's' sponsors: Sen. Iris Y. Martinez and Rep. Elizabeth Hernandez.
"Student government reached out to other individuals and they felt, as I do, myself, that it was a concern," Martinez said. "The people we talked to were very much passionate about this university and want to see this university succeed and they don't want people's personal agendas to supersede the overall betterment of the university."
Martinez said he felt the board would drop the matter due to pressure from the student body, but he expected they would still vote on it.
"I honestly think everybody's going to abandon ship on this," Martinez said on June 17. "They're going to let it die and pretend that it never happened because they're scared about the implications that this will have on them."
Hahs said she wasn't aware of Senate Bill 579 until after it passed through the Illinois House.
"Everything that we all do in whatever organizations we are in, whether it's NEIU or the state legislature, there are procedures for considering issues," Hahs said. "And so this is something we were doing as a consideration and are no longer working on it. But we should all follow our procedures, whatever those may be, and some outrank others. The state of Illinois outranks us."
*Correction: The sentence "The student trustee's ability to vote on matters of faculty tenure, which was included in the original Board of Trustees information item, could still potentially be defined as a conflict of interest through future amendments to board regulations…" that ran in the print version of this article on June 21 was later found to be incorrect. Under Illinois law, it is already considered a conflict of interest for the student trustee to vote on matters pertaining to faculty tenure. 
Leave a Comment
About the Contributor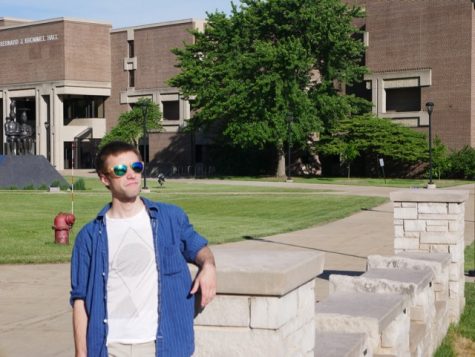 Steven Villa, News Editor