Calling All Badass Teachers!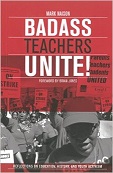 The recent shake up in Springfield was not the first or last time educators and students stood up to politicians.
"Badass Teachers Unite" is a collection of essays and reflections written by Mark Naison. He is a professor of African American Studies and History at Fordham University, and co-founder of the Badass Teachers Association.
The book chronicles American education throughout the last 70 years.
Naison discusses education policy and advocacy, taking opportunities to examine historical cases, mostly in the Bronx. An early and notable theme is the hypocritical American cycle of blaming teachers, and the education system in general, for society's problems.
Politicians frequently cite poor performance as a reason to cut funding. The lack of funding and resources make teachers jobs decidedly harder and continues to spiral out of control.
This is compounded by a flawed evaluation system, which judges a teacher's performance by their students' test scores. He has some choice thoughts about Common Core curriculum as a national standard, which are worth your time.
He continues by discussing student activism and the issues that affect youth. There is an anecdote from one teacher about students crying on Friday when they had to go home, since they would most likely not have another meal until they came back to school on Monday.
It's not all gloom and doom though. Naison also points out the achievements of the student movements of the sixties and juxtaposes them with the more recent movements like Occupy Wall Street.
A particularly interesting read is a very short piece titled "Five Arguments to Make to New 'Teach for America' Recruits." Naison succinctly points out 'Teach for America's direct connections with private enterprise and notes the suspiciousness of their policies and standards.
It was very interesting to learn how the defamation of teachers has become a political tool to leverage the privatization of education. The worse public school teachers seem in the public eye, the better private school teachers look by comparison.
This leaves public schools teachers with few options. They can either conform or move into the private sector. Either way, things aren't necessarily looking up.
There is hope however! Naison also outlines grassroots campaign strategies for slow, effective change.
Overall, the tone is optimistic. But it's the optimism of someone who has seen the worst on the path to figuring out what's best. This reserved optimism is Naison's true strength as an author.
The only (minor) criticism is that at times the use of punctuation and syntax requires you to reread a sentence or two for clarity. It only seems to happen during particularly important information, so it would be a sly move if it were intentional in order to focus the reader's attention.
All in all this is a well-written, well-considered examination of the current climate of education politics in America, and a great read to get you charged up for the upcoming school year. America is at a difficult crossroad right now.
But when Badass Teachers Unite, great things are possible!