Misfits DEA.D. or ALIVE!
3.5 stars
– [post-date] –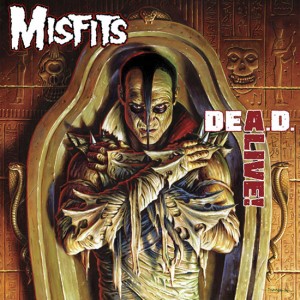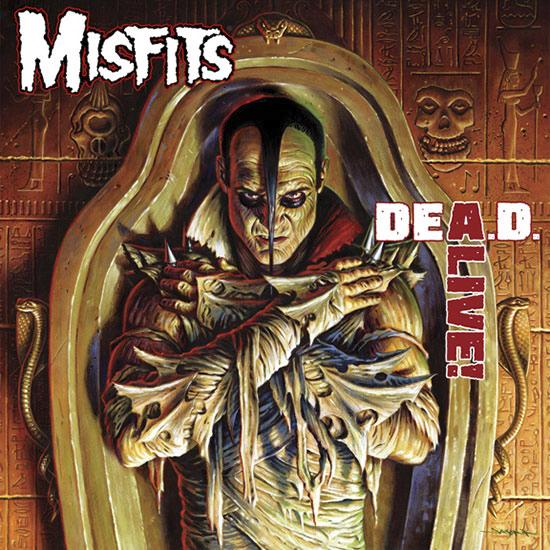 Fans of the horror punk band, Misfits, are not new to the idea of a live album. They understand and thrive in the gritty, unpolished nature of recordings like Evilive (1987) from the Glenn Danzig-era and Evilive II (1998) from the Michael Graves-era of the band. As decades have passed, the band's lineup has changed feverishly, altering musical direction in some ways, but essentially sticking to the sci-fi and horror themes that have made Misfits the grim giants they are today.
DEA.D. ALIVE! is daunting with the impression of new beginnings as bassist, and now vocalist Jerry Only, the only remaining member of the original Misfits lineup, takes the stage along with guitarist Dez Cadena, formerly of veteran punk band Black Flag, and Eric Arce behind the drums.
The recording opens up with a powerful thunderclap as the title track "The Devil's Rain," from the 2011 record, is unleashed on the screaming audience and pounds relentlessly. Other macabre moments from The Devil's Rain are performed at thrashing speeds on this live recording such as "Curse of the Mummy's Hand," "Vivid Red," and "Land of the Dead." Also, it is only natural that Jerry and the boys arranged a punk rock rendition of "Science Fiction/Double Feature," which originally opened stage production of The Rocky Horror Show, as well as the film adaptation.
The second half of the album is mostly made up of songs from the Graves-era of the band. Classics like "Dig Up Her Bones," "American Psycho," and "Scream" are always the go-to hits, but the crowd joins in a chanting frenzy as the recording comes to a close with "Saturday Night."
It is apparent that Cadena doesn't have the same authoritative strumming and power chord changing playability that former guitarist Doyle Wolfgang von Frankenstein utilized, but what he lacks in those areas he makes up for in shredding that complements Only's simple yet thunderous bass playing. It's just as likely that fans won't care for Only's singing compared to the vocal range capabilities of Michael Graves or the evil Elvis tones of Glenn Danzig.
DEA.D. ALIVE! is a much cleaner recording compared to other live Misfits albums as far as composition and transition is concerned, but the ferocity and passion is still very much within the band's grasp. There is no material from the Danzig-era which leads one to believe that this Jerry Only-lead lineup is a sign of a change in writing and playing styles that long time fans of Misfits might not appreciate. But something that can be appreciated is the undying dedication and the momentum to pump out new material, and the courageousness to release it on a live album is admirable.