'BRUCE BETTER HAVE OUR MONEY': Students, Professors Protest Gov. Rauner's Budget Inaction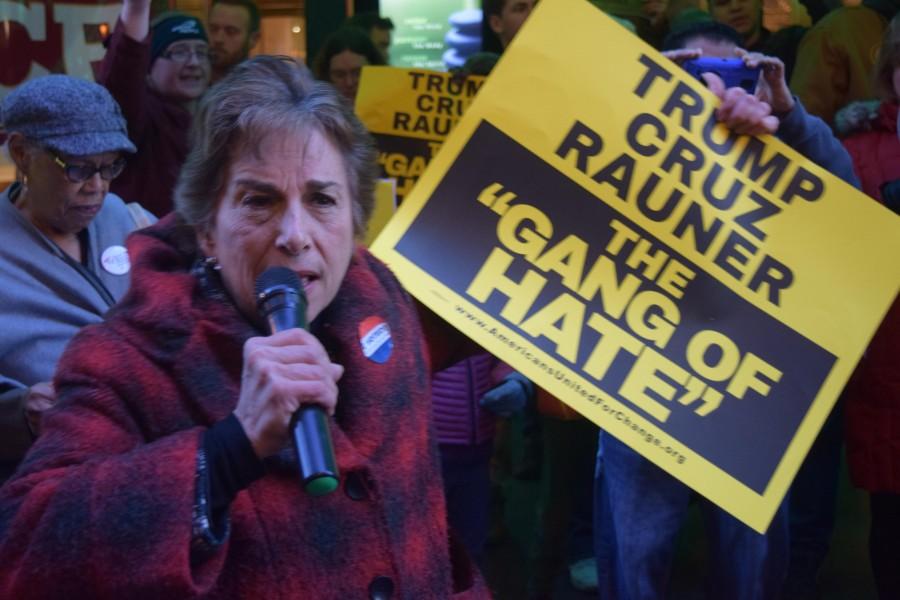 The streets of downtown Chicago were filled with the deafening roar of car horns and chants, as demonstrators protested outside the Palmer House hosting an Illinois Republican Party fundraiser.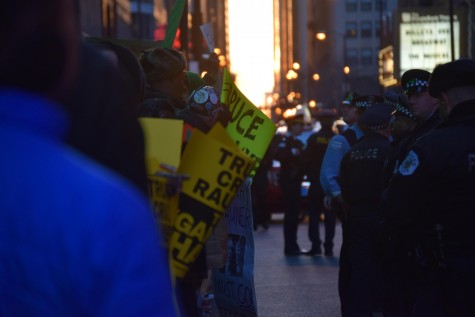 The demonstrators were mostly made up of public university students and professors, but were joined by social workers, senior citizens, and social service recipients. This diverse group of protesters, however, sent a unified message of their dissatisfaction with the leadership behind the state's current budget crisis.
Inside the high end hotel, the Illinois GOP hosted Republican presidential candidate, Texas Sen. Ted Cruz—the only presidential candidate to accept the invitation. The fundraiser was closed to reporters, with tickets costing anywhere from $500 to $40,000 for gold sponsors. The dinner was in Honor of Illinois Gov. Bruce Rauner, the first republican Governor in the state in 12 years.
Outside, demonstrators also had Rauner on their mind, but were doing anything but honoring him. The group of over a hundred protesters marched from the Federal Plaza to the hotel, the entire time chanting anti-Rauner slogans.
"Hey hey, ho ho, Bruce Rauner has got to go" echoed through the city streets as pedestrians occasionally joined in the chanting. Protesters also sang in unison "Bruce better have my money," to the tune of Rihanna' 2015 song "B—- Better Have My Money."
The scene for a brief moment turned chaotic as protesters overflowed from the sidewalks to the streets, blocking vehicles on Monroe Street. A motorist in a pickup truck was seemingly trying to intimidate protesters, edging closer towards demonstrators carrying signs.
Protesters eventually organized to allow motorists to pass shortly before police arrived and kept roads clear.
Rep. Jan Schakowsky, D-Ill 9th district, spoke to the demonstrators in front of the Palmer House to chastise the Republican leadership at or outside of the event.
"Shame on Bruce Rauner! Shame on Ted Cruz! Shame on Donald Trump for targeting poor people, students, ordinary working families!" said the congresswoman via loudspeaker. "We have to stop the hate. This is a state that is welcoming to people from all over the world. We have our governor who is trying to starve our most vulnerable!"
Many of the protesters agree to that the governor's actions unfairly affect the poor and those in need. Brian Spangler, who works for Heartland Alliance in refugee services, called Rauner's budget policy immoral and unethical. "We haven't been able to practice homeless prevention for our refugees in crisis," he said.
Some of NEIU's professors and students showed in force to protest the lack of a state budget. Sophia Mihic, political science professor, came out in light of the university's financial challenges.
"The entire university is facing furloughs and deferred payments," she said. "We haven't had a budget for the entire year. Our university has been paying (for our students') MAP grants."
As NEIU has not had any state funding for that year, teachers and staff will be facing mandatory days of absence. Mihic, among many other protesting that night, says this is a direct result of Rauner not signing a budget into law.
"I mean, we do our jobs," Mihic said. "But we don't have a governor that does his."
Dr. Shelly Bannister, professor of Justice Studies, and Women and Gender Studies, joined protesters to ask the governor to get a budget signed.
"We are a state institution, without any state support," she said. She also talked about fears that students may leave not just NEIU, but Illinois state schools overall.
"I've been hearing so many different reports of students saying, 'why should I stay here when there's no guarantee that my school will be open next year.'
"I know that everyone will do their best, all the employees, staff and faculty alike," said Bannister. "We'll do our best to provide the best education to our students. They deserve no less, you deserve no less."
As of this writing, Gov. Rauner has not released any response to the demonstrations, nor has he disclosed any information regarding the fundraiser.
View Comments (1)