Changing Chicago:
Destroying Culture for Condos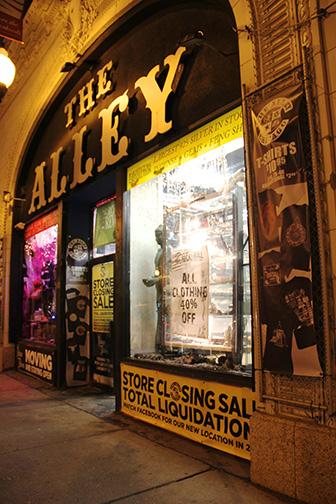 Chicago as a city has come to terms with change many times over. However, it's not something that tends to come to the city naturally or with ease.
There was once a time when the orange line didn't exist, the expensive houses off Roosevelt and State weren't more than a massive puddle of mud and the city streets weren't lined with potted plants. There was a time when Pilsen was predominantly German and a coal factory stood in the shadow of Wrigley Field.
We're living in Chicago in a time of transition. Mainstays of the city, like Ed Debevic's — a restaurant where you could get French fries served with a side of sass — closed last October to make way for new condos. Improv comedy house, iO shut its doors on Clark Street in July as the block is the part of the Wrigley Field renovation project, which includes the possible construction of new condos. This week The Alley, a giant in Chicago's alternative scene for more than four decades, also bites the dust in light of the construction of its neighbor, a former Dunkin' Donuts, being transformed into condos and the city's tax hikes.  
Though I have fond memories of all three of these establishments, the closing of The Alley hits me the hardest. I wasn't a regular there. I didn't make it my mission to seek the store out for Christmas spending. When I went though, it was like going on a pilgrimage. In high school, going to The Alley and spending the day going from store to store on Clark and Belmont was an adventure. My friends and I would hop the red line on a half-day of class and head for Lakeview. It was a whole different experience from the shopping malls of Chicago Ridge and Ford City that sold cookie cutter merchandise and generally had hints of the food court restaurants embedded in its wears.
Once we hit Belmont, the air was different. The Alley's iconic commercials on Q101 embedded its address in our minds: "Belmont and Clark… if you dare!" We dared.
We dared because we wanted purple hair dye and ball chain necklaces. We dared because we wanted to try on hippie skirts and look at belly button rings. We dared because we wanted to find clothes that expressed who we were, free from judgment, get ideas for our own art and be in a part of the city where people don't care if you have purple hair and wear ball chain necklaces. In fact, at The Alley, you could feel out of place if you didn't fit that description (i.e. me at 15-years-old).
On Jan. 19, the air on Belmont and Clark will surely change again as The Alley closes its doors. Yes, stores relocate. The aforementioned iO did just that. Ed Debevic's might and The Alley might reopen in new locations and evolve into something bigger (maybe even better) than they once were. The tragedy here is that all these places made their indelible marks for being different and yet, they stand to be replaced by cookie cutter condos. Ironically, this is happening in a state in a constant state of exodus.
Earlier this year, the Chicago Tribune and several other news outlets reported that Illinois residents are fleeing from the state's high taxes and brutal winters, with about 10,000 residents packing their belongings and moving out. In fact, the 39th Annual Movers Study by United Van Lines showed that Illinois was ranked third in states people were moving out of and has been in the top five states that people leave for the past seven years.
The Alley, Ed Debevic's and iO (which re-opened in Lincoln Park) are all about breaking from the status quo. Given how many people are leaving the state, maybe we don't need more places for people to live. Maybe we need to support the culture that thrives in our communities a little more to make that living more enjoyable. Maybe we need to stop ordering everything online and shop local, get off of Netflix and see some live theatre, or choose to go to a restaurant that doesn't deliver once in a while instead of ordering every other meal from GrubHub.
Yes, those things can seem inconvenient, but would it kill us to go out of our way every now and then to support our local business people instead of corporate conglomerates? If it does, then I shudder to think of what our city will be like for future generations, what adventures they'll have to go on, and what history we'll have left to share.