Top Speed And Top Notch Could Make You The Next Top Chef
More stories from Laura ROjas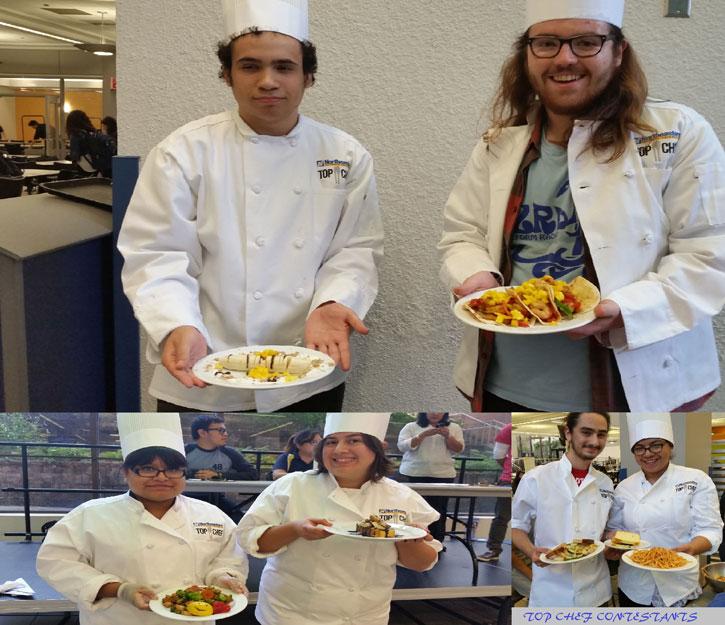 As soon as the word 'go' passed the initiator's lips, there was a scramble for ingredients. The six chefs hurried to heat their skillets and dazzle the panel of three judges with a main course and desert in only 20 minutes.
This year the Northeastern Programming Board (NPB) held the 9th Top Chef on Oct. 8, 2015. NEIU' Top Chef Competition is an annual event held in the cafeteria.
Ernie Kimlin, head of the NPB, said that each year there are three teams of two, consisting of a head chef and a sous (assistant) chef. In previous competitions, the participants of the three teams were diverse. One team would be NEIU staff, another of NEIU faculty and the third were NEIU students. What made this year unique, according to Kimlin, is that it was an all student competition.
Maria Xoy, 2nd year member of the NPB, said that an all student competition is an improvement because "that way [it] gives students a better chance to participate."
The winners have the honor "to sign the coveted Top chef pillow with gold spatula," said Kimlin. They also received water bottles, t-shirts and certificates as victors of the competition.
All three groups had to work with the same ingredients, according to Kimlin.
The ingredients were also a complete surprise to the contestants. Because of this, they had no chance to prepare a recipe, leaving them to cook on the fly.
"I see a lot of creativity, [I'm] looking forward to [their] final dishes," said Mark Weiner, director of food services at NEIU, who went around to each group to coach and give tips on presentation.
The three groups were: head chef Allegra Harper with her boyfriend James Sofios, head chef Lexy Porres with her friend Joanna Enriquez and head chef Eddie Pedvin and his colleague Ben Spector.
The three judges ranged from no experience in the kitchen to seasoned chefs. Maria Genoa-Homs had no experience. Claudia Xoy was a former Top Chef participant. Jose Dominguez, is a chef studying at the Illinois Institute of Art.
Lemongrass was a key ingredient all the teams had to use in their dishes. There were a few spices provided but one flavoring ingredient was particularly popular with the contestants was Sriracha sauce. There was also precooked pasta, chicken, shrimp, ground beef and tofu to work with and a small assortment of vegetables among a few other ingredients.
Dominguez pointed to the limited ingredients provided for the desserts: marshmallows, chocolate sauce, graham crackers, whipped cream, bananas, apples, and mangos.
"The deserts will be really crazy," he said. "I can only think of what? Smores?"
The final dishes the contestants came up with were diverse in selection ranging from noodle dishes with garlic bread to shrimp tacos.
Harper and Sofios made garlic bread on top of shrimp sautéed with lemongrass, zucchini and onions with a second plate of Sriracha flavored pasta for their main course. Their dessert was diced banana and whole marshmallows with chocolate sauce between three slices of white bread.
Porres and Enriquez prepared a stir-fry dish of chicken, broccoli, peppers, carrots that was seasoned with paprika and garlic and accompanied with a sauce made of ginger, lemongrass and soy sauce. Their dessert was melted marshmallows over fried bananas with chocolate sauce drizzled atop a slice of thick-cut, pound cake.
Pedvin and Spector whipped up for their main course what they called the "Wizard Explosion" and for dessert the "Magical Christmas Land". The Wizard Explosion was shrimp tacos sautéed with Sriracha sauce, lemongrass and pepper-mango salsa as well as topped with fresh diced mangos. The Magical Christmas Land was a whole banana topped with diced mangos, drizzled with chocolate and surrounded by whipped cream and sprinkled with brown sugar.
The three judges deliberated for a lengthy time. All the contestants and bystanders whispered about their anticipation and commenting on how long it seemed to be taking for the judges to decide.
The winner was finally announced as the WZRD duo, Pedvin and Spector's dishes won the judges' favor. Porres and Enriquez earned second place and Harper and Sofios earned honorable mention for participating.
Pedvin said, "I always hoped people liked my cooking and apparently [they] do." Both Pedvin and Spector were given the right to sign their names among past victors on the coveted pillow and gold spatula trophy.
Leave a Comment