No Papers Does Not Mean No Diploma
The Undocumented Students Project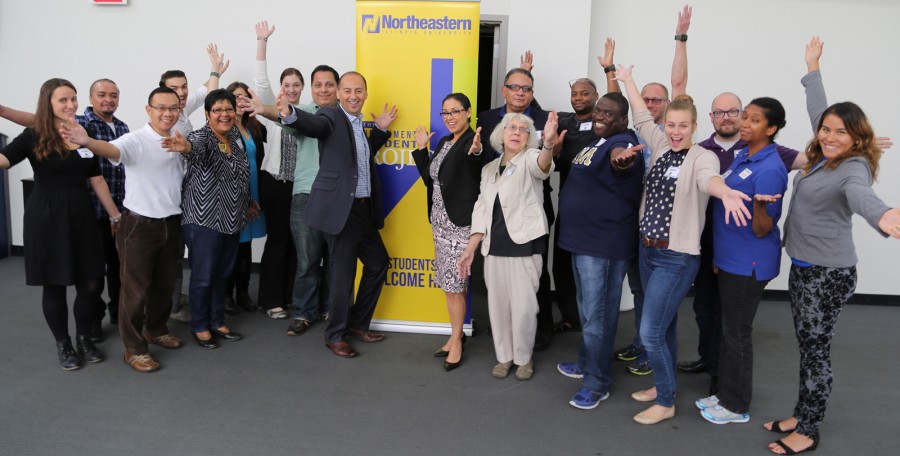 Many students work to pay their way through college. Yet some do so with the additional anxiety of possible deportation. NEIU's Undocumented Students Project (USP) hopes to provide aid for these students with avenues of support to help them achieve their educational goals.
An undocumented student is a student who currently does not retain U.S. citizenship or a valid visa to legally reside in the United States. According to Luvia Moreno, Student Advocacy Director and the current director of the USP, there are currently 243 known undocumented students at NEIU.
Maria Luna-Duarte, Interim Director of El Centro, has worked with the founder of the USP — Dr. Daniel Lopez, who was recently elected president of the Illinois Latino Council on Higher Education — since 2012, said students grew up under the impression that they were full U.S. citizens, only learning of the illegality of their citizenship when they were older.
Moreno said that undocumented students face strain from several different sources. But when it comes to their education, their most pressing concern is how they will finance it.
Many families of undocumented students are unable to provide the kind of financial assistance necessary to pay for an education. And since neither state nor federal aid are viable options, most of them have to work fulltime to pay for their classes and books, said Moreno.
The Independent spoke with an undocumented student about their academic experiences. The source requested to remain anonymous for the purposes of this article.
"It got really heated in class because they were talking about student loans and how everybody has debt," the student said. "I just thought they were complaining. But I can't even qualify for student loans or financial aid — I had to take only two classes my first semester because I couldn't afford it."
The unnamed student worked full-time while enrolled in college. The student graduated with honors from a city college in the spring of 2014 and subsequently enrolled at NEIU in the fall of 2014.
But undocumented student's access to higher education is challenged long before they're applying to a college or university. According to Moreno, many undocumented high school students don't know they can even apply.
Reflecting on their high school experience, the student said that while the high school provided aid for other students applying to college, undocumented students were left to their own devices.
"The counselors, the teachers, we would ask them if we could apply," the student said. "We didn't have papers. So they would just send us to the library so we wouldn't apply with the other kids. That's basically what broke me."
Undocumented students can apply to enroll at NEIU like any other student. There are no specific requirements, such as length of residency in the U.S., to be eligible to enroll as a student.
Though it may be more difficult for undocumented students to graduate with certain degrees, Moreno said there are virtually no limits to the career avenues that student may pursue. The unnamed student said they know of some undocumented students who applied and were accepted into medical schools and law schools.
Moreno also mentioned the Deferred Action for Childhood Arrivals (DACA), which she said is a great help for undocumented students looking for work during college, as well as applying for jobs after graduation. DACA grants them a two-year work permit, allowing them work almost anywhere, excluding jobs with the Federal government. They can also reapply every two years.
Duarte said El Centro has partnered up with the Logan Square Neighborhood Association (LSNA) and hosts a DACA workshop for the community and students to spread awareness of undocumented youth in Chicago.
Besides working, the only option available to undocumented students is to apply for a scholarship since they cannot apply for state or federal aid. Of the scholarships available to all students, 97 percent are applicable to undocumented students.
The student mentioned that the Undocumented Resilient Organization (URO) helps to raise funds for the Aspire Scholarship, initiated by the USP, solely for undocumented students. URO has also joined clubs from other schools, such as the Dreamer's Club from UIC and IIT, to advocate for bill HB3528, that may help undocumented students get access to financial aid.
Moreno said that when NEIU recruiters reach out to schools throughout the Chicagoland area and out of state, they it a point to mention NEIU's Undocumented Students Project to potential students — she said this could help to inform undocumented students of their options when applying to college.
The student said that though the USP and URO are great at providing resources to help undocumented students, "sometimes you just need emotional (support). You just need another student that tells you: 'Hey, I can do it. You can do it, too.'"
The Independent notes that the photograph featured in the print issue was incorrect. The photograph pictured online is of the Undocumented Students Program.
Leave a Comment