New SGA, New Agenda
Representatives from the Executive Board of the Student Government Association (SGA) said they are working on a campaign to increase student participation and transparency among all levels of student government.
To further this agenda, legislation was passed during the summer break to consolidate committees belonging to both the Senate and the Council of Clubs (COC), new surveys are being made available online and legislation has been passed with the aim to open school-wide boards and committees to student participation.
The SGA entered the semester with a survey, posted on Neiuport and linked to their Facebook page, highlighting three issues the SGA has identified as critical: student representation on policy making committees; issues affecting class cancellation; and financial aid and its relation to a timely graduation. The survey questions students on whether they believe these are issues they want their student government to address.
SGA Treasurer Max Caviness said, "We want to represent the students." He said the SGA looked at the previous year and wanted to improve upon their ability to gauge student opinion through extensive survey use and data gathering.
"We've gotten feedback in multiple ways," said Emily Hosman, SGA representative to the Illinois Board of Higher Education Student Advisory Committee (IBHE-SAC). "From various surveys; the election survey, this new survey that we just put out — as well as what students have told us personally…so my first concern is that that is addressed and that we, as an SGA, take that and look at it and we put it out on a spread sheet and work together.'"
In addition to probing students to share their thoughts and opinions via survey, the SGA released a flyer, titled, "One Voice: A Common Agenda. A Common Purpose," advertising its goals. The flyer specifically mentions the financial aid office, course scheduling and cancellations. Among the goals listed are "create better channels of communication" and "explore delays in processing payments" with the Financial Aid Office and to "(ensure) student representation in course scheduling discussions."
The third goal is to secure SGA representation on the Faculty Senate; a goal the flyer states will provide "student input into decisions on course cancellations."
Two of the bills passed by the SGA this May have had to do with securing student representation across school-wide committees. Senate bills number three and four, both sponsored by President Nicholas Martinez — with co-sponsors Vice President Ricardo Gutierrez and IBHE-SAC Representative Emily Hosman — were passed to allow student representation on the Faculty Senate and a committee referred to within the minutes recorded from the SGA's last meeting as the "Policy Making Board."
According to Amy Rempas, Business Associate and member of the Board of Trustees, the "Policy Making Board" refers to the Policy Coordinators Group.
Once in effect, the bills found mixed success.
A student representative has been approved by President Hahs to join the Policy Coordinators Group, however, according to Hosman, the Faculty Senate told the SGA that certain alterations would need to be made to their constitution to allow a student to hold a seat on the Faculty Senate.
"(From the Faculty Senate) we received a response saying, 'in order to get a student on this committee, we would have to rewrite our constitution as a board,'" said Hosman. "That's not to say that they won't…because all that means is they have to have a meeting, they have to say: 'Hey, we would like to revise our bylaws, revise it to include a student seat.'"
Senate Bills #9 and #10 were focused locally on the SGA's own governmental structure, integrating the membership of Senate and COC sub-committees; The Senate sub-committees: Student Life and Academic Life; and the COC sub-committees: The Charter Oversight and Regulations Committee (CORC) and Appointments and Promotions (A&P).
Before the bill was passed, membership on these sub-committees was restricted to members of their parent organizations — the Senate or COC, respectively — which lead to a lack of communication between Senators and COC representatives.
"What we did is we flip flopped it," said Hosman. "Each of those four committees are now made up of COC and Senate (members)…they're half COC and half Senators in each of the committees."
The SGA plans to continue posting surveys and pursuing student integration into the Northeastern's governing bodies as the fall semester unfolds.
"It's not about the person holding the role," said Hosman. "It's about who the role represents."
Leave a Comment
About the Contributor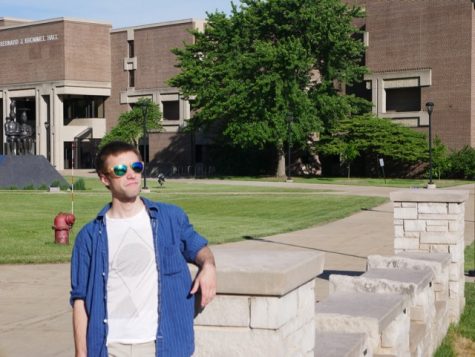 Steven Villa, News Editor