There's Strings in My Jewel Box: Kontras String Quartet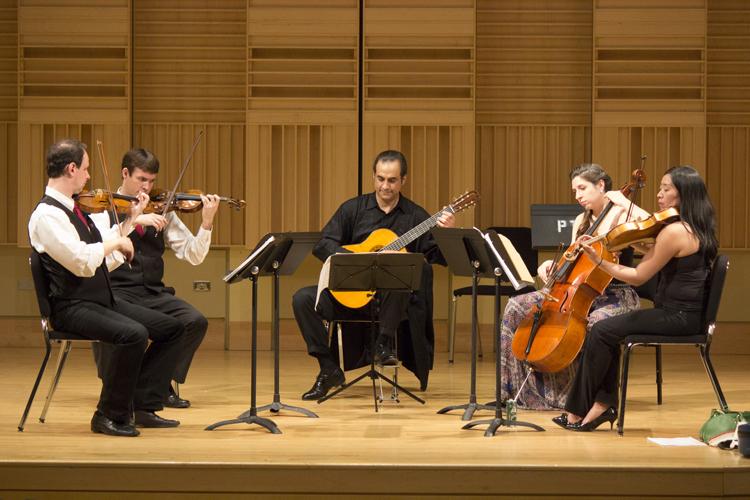 The sounds of Mozart, Luigi Boccherini accompanied the American and Japanese folk songs during the performance of the Kontras String Quartet.
The quartet consisted of Dmitri Pogorelov and Francois Henkins on violin, Ai Ishida on viola and Jean Hatmaker on cello. Their performance touched upon many international expressions of music, from traditional popular music parodies of 20th century American tunes to the classical music of Italy and Austria, ending on the traditional folk songs of Japan.
The choice of the set list exemplifies the background of the string quartet: each member is from a different part of the world. Henkins, a South African native, banded Pogorelov, Russian-born, Hatmaker, from the land of Illinois, and Ishida, born in Tokyo, Japan, into a formidable string quartet during their tenures in the Chicago Civic Orchestra.
Accompanying the performance was Dr. Rose Sperrazza, founder and artistic director of the Chicago Clarinet Ensemble. She performed alongside the Quartet during Mozart's quintet in A major for clarinet and strings.
Sperrazza spoke of the decision behind the Mozart piece. "It's one of the chamber music pieces in the clarinet repertoires that is the most important," she said. "Mozart is a very prolific composer, and his piece lasted through the centuries…and I never got to perform that before, so that's why I chose it."
Sperrazza expressed her meeting with the quartet before the performance, "It was friendly, and really easy to work with. Normally, in the first meeting, everybody's a little bit more nervous, because we're just meeting each other for the first time, but we got along well."
Along with Sperrazza, Dr. Brian Torosian, an applied guitar instructor, accompanied the Kontras String Quartet as well, playing "Fandango", a guitar quintet in D major by Luigi Boccherini.
"I performed with a string quartet before, and you're not going to believe it, it was the same piece! It's rhythmic and vibrant, you can even improvise with it a bit. It's become a staple in the repertoire for the guitar," Torosian said.
Torosian met the String Quartet simultaneously with Sperrazza. "I teamed my rehearsal with them along with Sperrazza's, so she met them in the morning, and I met them in the afternoon. We rehearsed for two hours, and it was really fun," he said.
Torosian also noted the expression of the quartet's technique, "As we played it, I realized we were all articulating exactly the same," he stated. "The facility of the quartet was quite technical and expressive."
Henkins spoke of the influence to the quartet in performing over the years, "Our greatest influence in performing is the history of the music that we are playing."
Leave a Comment
About the Contributor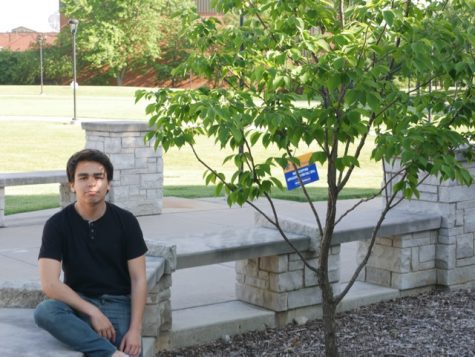 Pablo Medina, Editor