Dice and Dames: Guys and Dolls Comes to NEIU
This story of high rollers, betting and attractive women hit the stage on the University's auditorium with full force and to an uproarious applause.
Adapted from "The Idyll of Miss Sarah Brown" by Damon Runyon and presented by Opera Director Sasha Gerritson, "Guys and Dolls" tells the tale of small-time gamblers engaged in an illegal, larger-than-life mobile game of craps. On the other side of the story, the leader of the gamblers enters a wager with a risk-taking gambling aficionado to go on a successful tropical date with a woman for $1,000.
The show was accompanied by Gerritson's vocal chamber ensemble, the choreographed group of dancers under Andrew Waters and the orchestral ensemble conducted under Travis Heath. The show was presented during the nights between April 8 and April 11.
Gerritson said she was interested in exploring different forms of opera with "Guys and Dolls."
"In order to give our NEIU music students a wide variety of experiences with different styles of vocal music, I set up an intentional four-year rotation about eight years ago," she said. "Right now we are finishing year four with a standard repertoire music theater piece like 'Guys and Dolls'."
Gerritson, considering the interests and talents of the singers, dancers and actors — as well as the current themes of the rotation — said she looked to choose a production that would allow as many students as possible to showcase their chops.
"Each year I consider where we are in the rotation," she said. "I have and try to come up with a choice that fits. This year, 'Guys and Dolls' was that perfect choice! Lots of parts, to give as many people as possible an opportunity, and beautiful music."
Gerritson also spoke of the choreography incorporated in the performance by Andrew Waters, a part-time instructor for the Dance Program and the Dance Program Director, Dr. Venetia Stifler.
Waters choreographed the opera. "He worked his magic on our students, many of which defined themselves as "non-dancers" before this show," said Gerritson.
She also mentioned that Stifler helped the production immensely — allowing the cast to rehearse in the dance studio throughout the semester.
Supporting cast member and vocal music performance major D'Angelo Hampton reflected upon his contribution on the stage. He performs professionally outside of NEIU as well, appearing in main stage shows with the About Face Youth Theatre and participating in annual singing competitions and promotions.
"My experience in 'Guys and Dolls' was very fulfilling and refreshing," he said. "Sure it took a lot of hard work and dedication, but the production is so fun! Personally, I love comedy, so I live for productions with this many punch lines."
Matthew Dumay, a vocal music education major playing the character of gambler Rusty Charlie said, "I would say what pulled me into the musical 'Guys and Dolls' is because I love musicals and theater, and I think it's a fine portrayal of drama and theatre that happens in musicals — and expressing the feelings that cannot only be expressed in words."
"I originally auditioned for a different role, but I'm glad I got the part of Calvin," said Hampton. "When I found out I was playing a character with no lines, that didn't stop me. I am the Queen of Facial Expressions, so that's probably the biggest thing I brought to the character and the production."
Gerritson said of the finished production, "It was fantastic! I am so lucky to have an amazing team of singers, dancers, actors and stage crew. We rehearse two or three days a week for the whole semester and there's a great camaraderie and team spirit amongst the group. We have fun, make great art and learn in the process."
"We have amazing people to work with, too," Hampton said. "From the light and sound crew to the backstage crew, to Dr. Heath and the orchestra, to Sasha and Drew, and the entire cast – everyone worked so hard with a good attitude, and that is what makes a show: hard work and a great attitude."
The performances of musicians and dancers in the musical were applauded and well-received, presenting the energy and color of the department of music and bringing an operatic Broadway flair to the university.
Leave a Comment
About the Contributor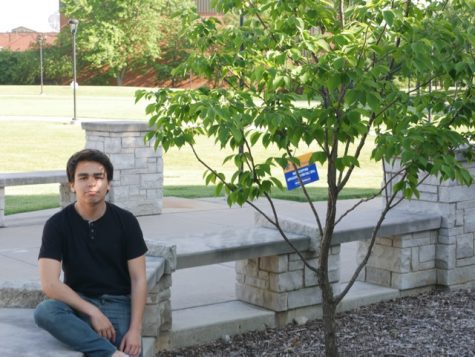 Pablo Medina, Editor