NEIU Experiences the Middle East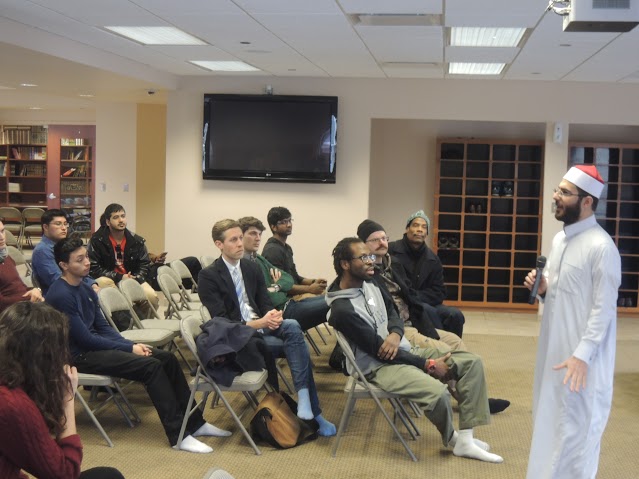 The troubling reports of violence in recent news involving members of Muslim communities from around the world should cause one to desire more understanding and feel more charity for people of other cultures and beliefs. The NEIU-sponsored Middle Eastern/Arab American cultural tour did exactly that for NEIU students.
I couldn't tell you whether the food I tasted was from a particular region or country in the Middle East, or if it is generally prepared in cultures in the Middle East across the world, much less the name of the prayer service we experienced, or the frequency that its practitioners participate in it – although the foodie in me is happy and satisfied to know that the food was delicious, and that if I could, I would eat it every day for the rest of my life.
The trip, on Feb. 20, began with a jaunt to the University of Chicago for a presentation on Islamic and Islamicate civilizations by presenter Alex Barna, Outreach Coordinator for the Center of Middle Eastern Studies. The presenter gave a detailed and thorough overview of the history of Islam, from its rise in the 7th century CE, to present-day attitudes and stereotypes towards Islam in America.
Bridgeview, IL, about 20 miles southwest of the North Park and Albany Park Chicago neighborhoods, is home to both Al Bawadi Grill and the Mosque Foundation, the latter two stops on the tour.
Since I have apparently been deceived into believing that all Middle Eastern food is good, it would be difficult for me to give a balanced and reasonable review of the restaurant — I have never tasted any bad Middle Eastern food, and at Al Bawadi, my experience was no different. Al Bawadi seems to be as authentic as you can get in the greater Chicago area without dining in the home of one of your Middle Eastern friends.
Each trip participant had a choice of the main entree, sheesh kabob, chicken or (vegetarian) falafel, all of which were paired with rice. There was also plenty of salad, pita bread, hummus and pickled vegetables at each table to go around and to share.
The coffee snob in me was thrilled that I even got to try an authentic, Middle Eastern style brewed cup of coffee. Each entree plate was about a foot long and half a foot wide. There was so much food that most students took home leftovers, but my brain had shut down during the meal and my mouth was left alone to do the thinking. I ended up cleaning off my plate.
At the Mosque Foundation, we were given the opportunity to experience a Friday afternoon prayer service. Men went upstairs, women downstairs. We were able to catch the very end of it, but we were late, and those of us females without head coverings rushed to find some from a shelf of drawers. One of the other girls on the trip pulled out a piece of cloth, and tossed it to me and I pulled it over my head.
"This is so loose," I whispered. I pulled the scarf off my head. The girls working at the Mosque, helping us students find scarves to wear, turned to me. One of them took the piece of cloth I was holding to take a look at it.
"That one is so loose because it's actually a skirt," she said.
"Oh, great," I thought.  "I'm not a fool or anything. I'm just wearing a skirt on my head."
I started to laugh. What a classic amateur move. The girls near me laughed too, and I ended up with another scarf, needless to say, one that was actually supposed to be worn on my head.
After afternoon prayers, the Imam of the Mosque, Sheikh Ahmed Arafat, who holds a Master of Divinity degree from the University of Chicago, answered our questions about Islam. Our inquisitive group asked him questions ranging from practices of Islam, to theology and to pressing contemporary issues.
I realized through this trip that experiencing other cultures and traditions truly is different from learning about them in textbooks. While knowledge can eliminate ignorant assumptions, there is nothing like putting human faces to facts and figures to increase one's empathy and compassion, especially in the light of these times' disturbing world events.
Leave a Comment
About the Contributor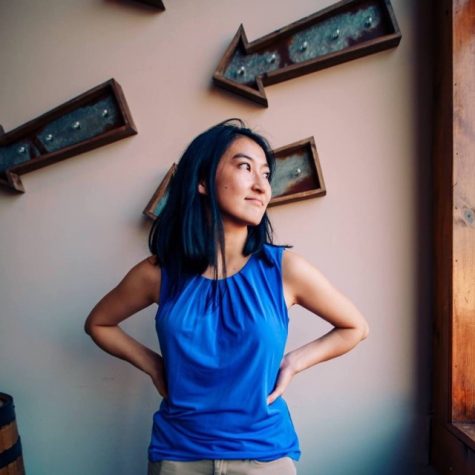 Grace Yu, Campus Life Editor
Grace Yu is a senior majoring in English and Philosophy. She will graduate in May 2020.