University Daze at University Day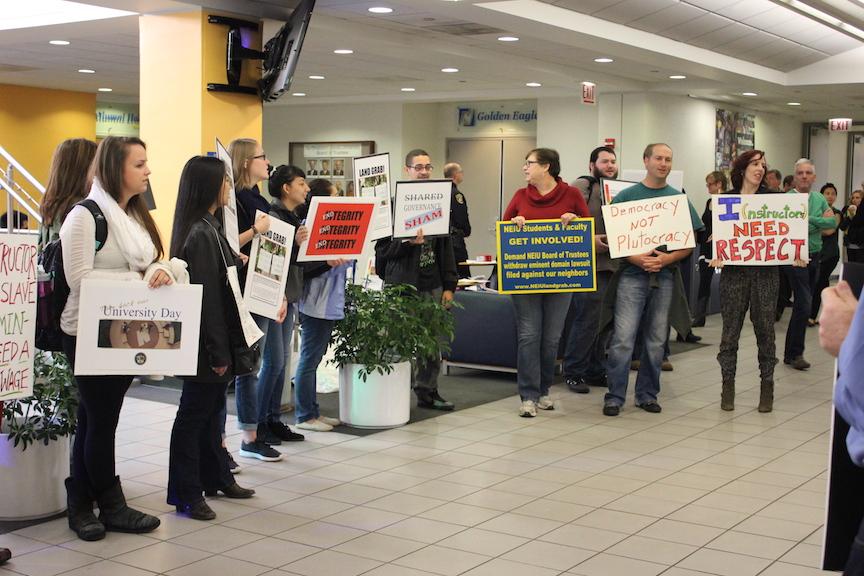 Just outside Alumni Hall where professors, staff and administration discussed the future of NEIU was a gathering of a different type. Forty to 50 students and professors collected in the Student Union carried signs and chanted in unison against the University Day event.
Signs bore a variety of complaints from "No Mas, Hahs!" to "Stop cutting classes!" Chants echoed further frustration and many at the protest referred to the mismanagement of the school.
Though at the time of the protest there was no centralized list of demands, students had an opportunity to participate in a SWOT (Strengths, Weaknesses, Opportunities, Threats), similar to the participants of University Day.
"Your event is a sham! Shame, Shame, Shame!"
Students and protestors spoke against the way University Day is held. The event is "dedicated to engaging our entire university community in… refreshing our strategic plan," said NEIU president Dr. Sharon Hahs in an email to the university community.
While a curated discourse occurred inside the auditorium, protestors brought up several matters which many felt contributed to the mismanagement of the university.
Dr. Shelly Bannister, professor in justice studies, participated in the event and said: "This is an opportunity for dialogue. That's the whole point of this thing."
Bannister explained how past University Day events differ from the one occurring this year. "Back in the old days, University Day was such a fun thing." Along with Bannister, other protesters felt that participating in University Day would not achieve a desired dialogue.
"Instructors Need Respect"
"We're dealing with an administration and that's already been condemned," said Dr. Russell Benjamin, associate professor of political science. Protesters carried signs calling for the respect of university educators, many citing Dr. John Boyle's denial of tenure.
The American Association of University Professors (AAUP) investigated the former professor's case, which brought on scrutiny from the association. In a report released in December 2014, the AAUP stated that NEIU failed to "state credible reasons for denying tenure, (and) did not afford academic due process to Professor Boyle," while disregarding several other AAUP tenants.
NEIU has since challenged the validity of these reports. In a statement reported by Inside Higher Ed in 2013, NEIU challenged "factual errors, misinterpretations of university policies and procedures, and unwarranted assumptions about the university's governance structures and decision-making processes."
"Instruction, Not Construction!"
Professors and students also cite NEIU's use of eminent domain, as well as choices to expand via the building of El Centro and to create new buildings on the main campus over the next decade.
"They're destroying the university," said Dr. Mark Melton, professor of education. "They're shifting direction, and not serving the students they traditionally serve." Melton said that protesters feel that the cost of dorms may drive away some of NEIU's student body, currently at about 10,800. "It's like them saying 'we don't want you.'"
Though a concern over the affordability of dorm rooms was expressed at the protest, it is unknown at the time what the exact cost of student housing will be.
"Democracy, Not Plutocracy"
Other professors are also worried that the decrease in professors may weaken NEIU as an institution. Dr. Andreas Savas Kourvetaris said, "The fastest way to kill a university is to hire more administration and less instruction." Other professors and students at the event also expressed worries at a shrinking instructor base.
According to the Illinois Board of Higher Education's 2012-2013 Annual Public University Report on Expenditures, NEIU is spending less on instruction. From 2012 to 2013, the school saw a decrease in instructional programs of about $1 million, translating into 2.3 percent less for the school's total funds. Institutional support staff (executive, financial and administrative) saw an increase of about $500,000, which gives it 0.1 percent more in the university's total budget.
"We're taking back NEIU"
Students aired even more concerns dealing with NEIU as a whole. Many carried signs addressing the university's cutting of classes. Others were there to address the name of Lech Walesa Hall, which has concerned many over former Polish president Lech Walesa's homophobic comments in 2012.
Though the University Day event itself was largely unaltered, the visibility of the protest day attracted the attention of students passing by. With more students aware of matters at NEIU, both participants and protesters of University Day may soon get the dialogue they're looking for.