Pau-erful New Trio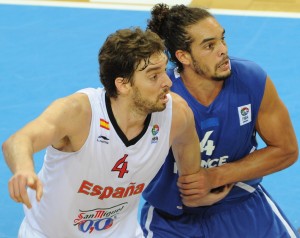 The Chicago Bulls were very active in the offseason to improve the team through the draft and free agency. The front office also made some necessary moves to let go of some players. Carlos Boozer and Jimmer Fredette were both released from the team after failing to live up to expectations. Last season's leading scorer and backup point guard, D.J. Augustin, was allowed to test free agency and found a new home in Detroit. Even with some key players in the rotation gone, the Bulls made sure to reload the roster with talent in order to compete for an Eastern Conference Championship.
Unfortunately, the biggest prize of the summer, Carmelo Anthony, opted to stay with New York and star power forward Kevin Love was traded to Cleveland. Those moves are just two more added to the long list of failed superstar recruiting attempts by John Paxson and Gar Forman. That said, the front office did a good job of bringing quality players to the team in hopes to compete for an Eastern Conference Championship.
The Bulls were aggressive in the draft. They had two top-twenty picks and traded those to move up and get the guy they've coveted for years, Doug McDermott.
McDermott was a very well-known college basketball player having won the player of the year award last season. He led the nation in scoring and had one of the highest shooting percentages in Division 1. McDermott can bring a lot to the Bulls. They have been desperate for a shooter, especially one that can create his own shot. McDermott showed he can put the ball on the floor in college but only time will tell if he is quick enough to do it in the pros.
McDermott isn't the only sharpshooter the Bulls added. After years of waiting, Nikola Mirotic has finally come to Chicago. In 2011, he was drafted by the Minnesota Timberwolves but his rights were traded to the Bulls just a few hours later.
After realizing he would make less money playing on an NBA rookie contract, he opted to stay in Europe until he could sign a bigger deal. Finally, his rookie exception has expired and he signed a 3-year, $16.6 million contract. Analysts have said that if he was available for this year's draft, he would have been a top pick, and with potential stars like Andrew Wiggins, Jabari Parker and Joel Embiid in the draft, that is quite the compliment. He is a 6'10 power forward that can shoot the long ball.
While in Europe he was working on his low-post game but his outside shooting is his strong point. Despite his highly decorated career overseas, he may not play a ton to start the season, but if he can buy into Tom Thibodeau's system and learn from the veterans on this team, the sky is the limit for Mirotic.
Finally the most important signing of the offseason, two-time NBA champion, Pau Gasol. It is weird to say that signing a 34 year old who just had one of his worst seasons of his career is a good signing but Gasol is a different kind of player. He did struggle at times last year but he suffered a major injury during the season which hindered his production. He looked impressive throughout the World Championships leading Spain in multiple statistical categories. His passing and scoring abilities are something that we have not seen from the low block the past few years. He has a reputation of being soft around the basket but it is that finesse that has allowed him to succeed in the NBA for a long time. The interior passing that the Bulls will display will be a thing of beauty. Once Taj Gibson, Joakim Noah and Gasol mesh, they will form one of the best front courts in the league.
Not only will Gasol be called on to play and score at a high level but he could also be the much-needed mentor for Mirotic. The younger Spaniard is still raw but under Gasol's guidance, Mirotic should be able to quickly adapt to the NBA game.
Overall this offseason seems to have been a huge success. It is a little disappointing that the Bulls failed to land a true scoring superstar like Love or Anthony, but they did add quality depth and have a former MVP and true superstar in his own right, Derrick Rose, returning to the court. With the return of Rose combined with Defensive Player of the Year, Joakim Noah and the three new scorers, the Bulls should be competing for an Eastern Conference Championship come March.